Cups and Balls
Cups and Balls Magic Reviews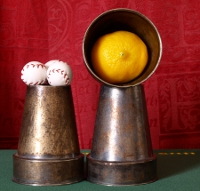 Product: 19th Century StyleTin Cups
Maker: Unknown
Source: Michael Shepherd
Review
What's Included?:
Just the cups.
Construction / Durability: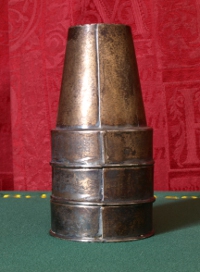 These are very reminiscent of the early 19th Century French style cups. They appear to be tin and are soldered with seams along all of the joints. They are very solid and have obviously seen lots of use as the saddles will attest! These have survived the test of time.
They do appear to have had a plating on at some point, perhaps chrome. I was told when I aquired these that there was some speculation as to whether these were originally silver plated which I seriously doubted at the time.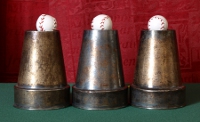 However, recently on eBay a set appeared with a similar finish that also claimed to be silver plated. The cups in question fetched a fair price, perhaps because of their provenance. The cups in question belonged to Herb Zarrow.
While the cups on eBay were of a different size, manufacture (they were clearly spun and not soldered), the finish was simliar so perhaps, at one point these were indeed silver plated. Who knows?
I have seen a set of similar shape and style cups in brass which the owner swears he bought from Davenports many years ago so perhaps that may be a clue to their origin?
Suitability: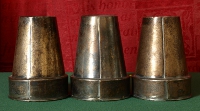 These cups are perfectly servicable and wonderful to work with. While they have a more traditional shape to them which limits the attic space and saddle display this doesn't matter a great deal if you don't want more than 1 ball nested or displayed.
I have a few routines I perform some which do require a larger saddle and attic space and some which don't. I let each set of cups talk to me and get a feel of the routine "they" like to do.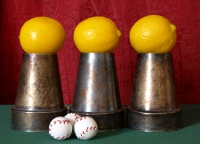 While the saddle also limits you with moves such as the elevator and galloping post etc, the great thing about the tapered shape and smaller saddle is that final loads look much larger on them, such as the (rather small) Ammar Fab Fruit lemons.
Overall:
Overall I love these cups, aside form having some sentimental value I actually love their age, their weather-beaten feel and the way they handle. I am currently working with the smaller Mike Rogers baseballs and Ammar lemons but I am looking for some tan (or faded red) leather monkey fists to set them off. These are keepers!
Measurements (mm)

Inner Mouth Diameter

62.8 mm

Outer Mouth Bead Diameter

67.8 mm

Inner Depth (to centre of dip in saddle)

81.2 mm

Height

90 mm

Saddle Width

40.8 mm

Stack Height

135 mm

Weight (oz)

Per Cup
2.5 oz
Set
7.5 oz

Please remember - This site is a free resource so please pass on your thanks by mentioning us when you place an order for anything.
Thanks!