Cups and Balls
Cups and Balls Magic Reviews

Guest Reviewer Bruce Smith

Place your mouse on the above picture for a close up view
Product: Paul Fox Copper Cups
Maker: RNT2
Price: Current RNT2 Website Price $249.00
Overview:





4.5/5
(This would have been a 5 if they were original PF's)
Review
What's Included?:
A very basic velvet like drawstring bag (no balls.)
Delivery Time / Packaging:
This set of Cups took about 6 months to arrive; they were packaged with care with the remaining outstanding items that were on order (purchased during the RNT2 closeout period for $149.)
Construction / Durability:
What wonderful Cups; I have always been attracted to Cups with rings. This set was spun out of the heavier copper and have a satin finish. These are the first set of satin finished copper Cups that I own… it is true, the satin finished Cups turn that brown color we all desire very quickly (the quickest of any Cups that I have.)
Suitability:
What a great set of Cups, truly a classic in design. I am sure that whoever reads this has been to Bill Palmer's Cups and Balls Museum and has read the history of the Paul Fox Cups. I have never seen a set of original Paul Fox Cups in the flesh, but comparing the RNT2 PF Cups to all the pictures of the originals at the museum, I would have to say that the RNT2 PF Cups look pretty much dead on to the real thing.
I have spent countless hours looking at the Cups at the C&B Museum and many times in particular, studying the photo of the Paul Fox Cups next to a Thermos brand cup. It is said that Paul Fox might have gotten his inspiration for his Cup design from the Thermos Cup; Bill Palmer thinks not, however I disagree.
I see the similarity between the two and can see how one might lead to the other. I admit that I have not done any research as to the timeline of the Thermos design and how it relates to the time of conception of the Paul Fox Cup… but to me it make sense.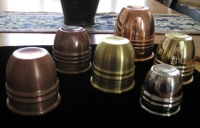 Wherever Paul Fox got his inspiration, I am glad that he did… for I love all the truncated, rounded ringed Cups that have come since (my favorites being the RNT2 Squatty 2 Cups.)
The RNT2 PF Cups are quite stout for their size, each Cup just short of 3" high and about 3" wide at the mouth. I have been using RNT2 hunter green 1" balls with them; the green looking very good against the brown copper. The 1" balls will not sit together on the Cup's saddle nor stack as such, but with the routines I do, this not a problem.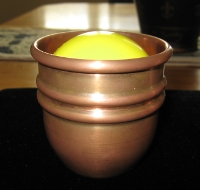 The RNT2 PF Cups have been designed to conceal a lacrosse ball for its final load. The lacrosse balls I have on hand are just a tad too big to work. One of these days I will go to a sporting goods store and find the balls that will work (not all lacrosse balls are the same size and vary from manufacture to manufacture.)
Overall:
You can tell by my writings above that I am quite satisfied with the RNT2 PF Cups. One day I shall have a set of the originals, until then these will certainly do. RNT2 spins this Cup in many different finishes, probably the next set I will acquire will have a chromed finish. I highly recommend this classic Cup to everyone.
Available from: RNT2
Thanks Bruce!
Please remember - This site is a free resource so please pass on your thanks by mentioning us when you place an order for anything.
Thanks!