Cups and Balls
Cups and Balls Magic Reviews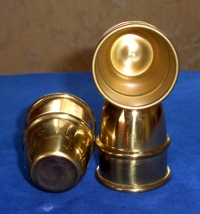 Place your mouse on the above picture for a close up view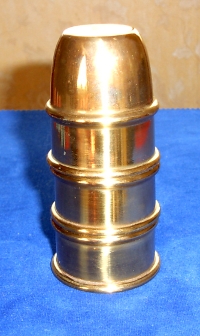 Product: Mini Brass Cups
Maker: Ickle Pickle
Price: (Paid $35 Via The Magic Cafe)
Overview:





4.5/5
Review
What's Included?:
Just the cups, no bag, no balls.
Delivery Time / Packaging:
7 days from the USA to the UK, very quick indeed and expertly packed by Epiphany. These were wrapped individually in tissue and then stacked, wrapped in buble wrap and padded out with paper in a snug fitting postal box. The cups arrived in perfrct condition.
Construction / Durability: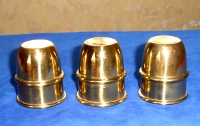 Ickle Pickle are usually regarded as starter cups but I suspect that their earlier stuff (like Morrisey) was very nice because these are great little cups. For their size (2 1/4" high, 1 3/4" inside mouth diameter) they have a fair bit of weight to them and they are very solid indeed.
The finish is a polished finish although there are some fine spin lines and they appear to be clear coated.
Suitability: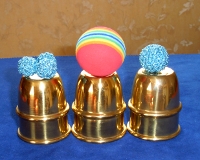 They can take 3 x 1/2" balls on the saddle and the final load size is a golf ball which looks very deceptive. The whole set weighs around 5.2 oz which is a good weight but not bothersome to carry around should you want to use them for table hopping etc.
Overall: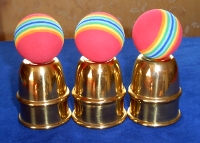 Overall I give these 4.5 / 5 and the only reason I didn't give them 5 is that I prefer a more rounded saddle or shorter skirt or second bead for some moves. These are lovely quality little cups and great to hold and work with as I like cups with a little weight.
Available from: N/A
Please remember - This site is a free resource so please pass on your thanks by mentioning us when you place an order for anything.
Thanks!