Cups and Balls
Cups and Balls Magic Reviews

Place your mouse on the above picture for a close up view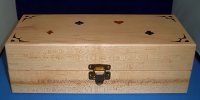 Product: Cocobolo Cups & Wand
Maker: Joe Porper
Price: New Price $750

Overview: 9.5 / 10
At a Glance
| | | | | | | | | | | |
| --- | --- | --- | --- | --- | --- | --- | --- | --- | --- | --- |
| | 1 | 2 | 3 | 4 | 5 | 6 | 7 | 8 | 9 | 10 |
| Price | | | | | | | | | | |
| Delivery | | | | | | | | | | |
| Construction | | | | | | | | | | |
| Suitability | | | | | | | | | | |
Review
Price: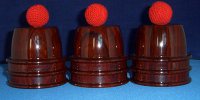 At $750 this is not a cheap set of cups but then again this isn't a "cheap" set of cups! The quality, finish and attention to detail you are getting is relative to the price paid. In the end, it's up to you whether you believe $750 is a lot of money for these, however I know plenty of guys who throw $20 a pop at packet card tricks or twice that on a plastic pocket trick available in many a joke shop.
What's Included?: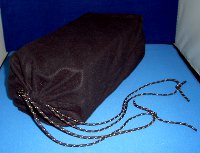 The cups are supplied in a nice box with an inlaid top featuring the 4 suits, hearts, clubs, diamonds and spades and filigree type corner decorations.
They also come furnished with a 2 piece matching inlaid wand, all of which is housed in a simple cotton drawstring bag.
Delivery Time / Packaging:
These were bought via an internet forum and though they are new and unused were sold as 2nd user. They arrived in 48 hours via mainland UK recorded delivery, well packaged in bubble wrap, poly beads and a roomy box. Everything arrived in perfect condition.
Construction / Durability:
These cups appear to be based on the Harry Stanley (Unique Magic Studio) cups which were spun for Dai Vernon's lecture tour in the 1950's. I have a set of those cups in aluminium which are very similar in shape etc.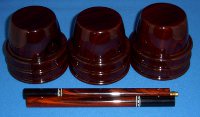 As with all wooden cups there are going to be compromises and you need to bear that in mind when considering wood v's metal, such as the thickness of the cup walls, difference in weight / handling, sound and durability etc.
That said, these cups have a very nice feel to them. They weigh in at approx 4.5oz. The aluminium Harry Stanley cups are approx 2oz. I like the extra weight, the aluminium cups are too light for my tastes.
The finish on the cups (and wand) is a very high gloss varnish. They are both finished very well indeed. There's no hiding the fact that Mr Porper is considered by many to be one of the best cue makers around.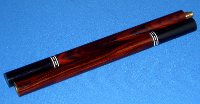 Which brings me to the wand... What can I say, the wand is a beautiful object indeed. I have to be honest and say that this is both the first inlaid wand I have owned and the first Joe Porper wand I have owned.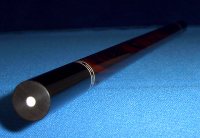 Because of this I have nothing to compare it to, however I do know a well made object when I see it. The inlay where the tips and main shaft meet and at the very tips is very reminiscent of the detailing on a nice pool cue and really add a touch of class and quality to the wand.


Suitability:
These have a little more attic space than the Stanley cups, for instance you can nest a 1" ball between the cups during a routine but the Stanley cups (at least the ones that I have) wont allow that.
If you wanted to nest 3 balls between them then the balls would need to be so small they wouldn't look in proportion to the cups but I feel the same way about the Stanley cups and, tobe fair, the Stanley cups were spun with the Vernon routine in mind and if you do perform the Vernon routine then you'll probably really like them (and these.)
If I am to be critical of these cups, I would like to see a tiny bit more of a "dish" shape to the saddle to control the ball for the tip off move a little better, though having said that, it is manageable.
As far as final loads go, these take a slightly smaller load than the Stanley cups do (the Stanley cups I have just take a regulation tennis ball when sat on a mat, in a similar way to a Sherwood chopped cup does.)
This doesn't seem to make sense because of the added room in the attic but the shoulder beads on the Porper cups are higher than those on the Stanley cups yet the thinner metal walls on the Stanley cups allow a larger circumference final load.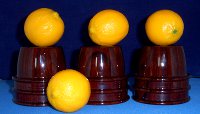 I am guessing (and it's only a guess as I don't have one) that these may just take a lacrosse ball. If anyone can confirm or deny this I would appreciate an email please!
Having said all that, I actually prefer the Ammar Fab Fruit as a final load with these, in particular the lemons as I think they contrast beautifully with the rich, dark wood and the incongruity aspect plays very well.
Overall: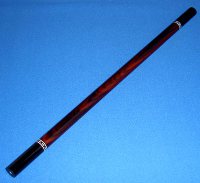 In summing up, these are a beautiful set of cups, well presented and expertly made, with a gorgeous wand and a nice inlaid presentation case.

Though these cups feel solid, I wouldn't expect these to be my set of working cups that take a beating but a set that I will take to friends dinner parties / special occasions and break out at times like these.
Maybe I'm sad but I really like the "ceremony" of taking the box from the bag, taking the cups from the box, screwing the wand together etc while I preamble a little about the history of the cups etc.
Available from: Joe Porper
Please remember - This site is a free resource so please pass on your thanks by mentioning us when you place an order for anything.
Thanks!