Cups and Balls
Cups and Balls Magic Reviews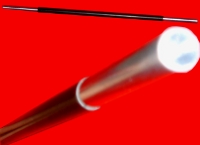 Product: Mercury Wand
Maker: Michael Ammar
Price: $24.95
Overview:





4.5/5
Review:
Price:
Price wise the Mercury Wand is great value. It has been on offer from time to time but at $24.95 you shouldn't ever need to replace it so it's a wand for life at a fantastic price.
What's Included?:
You simply get the Mercury Wand there is no carry case included.
Delivery Time / Packaging:
I bought a Mercury Wand and 5 Fab Fruit together, delivered from the USA, expertly packaged in a sturdy box it arrived in 7 days.
I was notified via email when my order was placed and again when it shipped. It's a nice touch which means you are kept informed along the way and, as a result I have complete faith that if I order anything from Michael's site Bonnie will look after me.
Construction / Durability:
The Mercury Wand is a very durable piece of kit and should last a lifetime. It is constructed from heavy gauge aluminium bar just over 1/4" in thickness and 13 1/2" in length.
The black portion of the wand is a rubberised coating which is shrunk to hug the shaft of the wand tightly.
As far as durability goes the only problem which may occur is the tubing coming loose and Michael even offers downloadable PDF on his site with simple instructions to fix this.
One thing that lets it down (albeit only slightly) for me is the fact that where the sleeving meets the aluminium there is a ridge. The ridge is only the thickness of the sleeving so I am being very picky here but thought you should know.
Suitability:
If you use a wand for the Williamson Striking Vanish, Through The Hand Vanish and / or the Mora / Vernon Wand Spin then this is perfectly balanced and a good weight.
It wont let you down, in fact after playing with this wand and comparing it to all the others I have, it is the wand which makes all the spins the easiest due to it's weight and balance.
In additionto this, the rubber sleeving makes the wand very easy to handle and grip which is excellent.
If you want to get physical with your cups then don't hit your cups with this wand unless you want to mark them...
Overall:
If you want a solid, well weighted wand for spins, vanishes and flourishes that handles well and grips better than most then you can't go wrong.
If you like a thicker wand or one that you can strike your cups without harming them with then I would suggest something like the RNT2 Delrin Wand.
The only reason I have given this wand 4.5 cups instead of 5 is that it limits me slightly in as much as I can't use it with my Sterling Silver Cups for penetration through the bottom of the cup etc and I do prefer a slightly thicker wand.
This is still the best wand I have for spinning and that counts for a lot!
Available from: Michael Ammar
Please remember - This site is a free resource so please pass on your thanks by mentioning us when you place an order for anything.