Cups and Balls
Cups and Balls Magic Reviews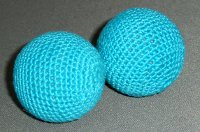 Product: 1 3/8" Parakeet Chopped Balls
Maker: RNT2
Price: $24.99
Overview: 10 / 10
At a Glance
| | | | | | | | | | | |
| --- | --- | --- | --- | --- | --- | --- | --- | --- | --- | --- |
| | 1 | 2 | 3 | 4 | 5 | 6 | 7 | 8 | 9 | 10 |
| Price | | | | | | | | | | |
| Delivery | | | | | | | | | | |
| Construction | | | | | | | | | | |
| Suitability | | | | | | | | | | |
Review
Price:
These are a great price, especially for the quality of ball you receive and remember they are adjustable too! Shipping to the UK was only $7.48 for 2 sets. All in all I think these represent great value.
What's Included?:
2 balls (1 adjustable gaffed, 1 regular) and the instructions
Delivery Time / Packaging: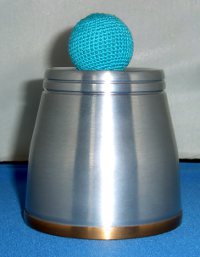 Wow, these were sent on the 19th January from the USA and arrived safe and sound in the UK on the 25th! How's that for service!
I ordered 2 sets of balls and a velvet bag, most dealers would have thrown these in a padded jiffy envelope but these were sent in a sturdy box with polystyrene beans.
I was emailed when the order was accepted and also when the order had been shipped. Perfect service.

Construction / Durability:
I've always liked the RNT2 balls Jake and Marcella sold because of the wooden core, I like a heavier ball and Donnie has continued this tradition.
The crochet is very tight and perfectly formed around the ball. In fact, it is so tight I emailed Donnie to ask if the core was painted (it isn't) before crocheting.
Suitability:
Firstly, I prefer a wooden core. The wooden core seems to handle better than traditional cork for many moves and feels more substantial. Together with the crochet jacket it also stops dead if dropped rather than bouncing and rolling like cork can.
Another great feature of these balls is the fact that they are adjustable (complete with instructions.) I tried these balls with my original Encore Copper Don Alan and they worked perfectly right out of the box.
Adjusting the balls for my stronger RNT2 bronze lined Don Alan Stubby took around 30 seconds flat to achieve the same results. There's really no excuses for inconsistent handling and cup slamming if you use these balls.
Overall:
Overall I have to give these balls 10 out of 10 on all counts. I am delighted with them. If you are worried about the size then I would urge you to try these out. I wont go back.
Many performers currently use 1" balls which are, in actual fact 1 1/8" anyway because some advertised balls state the core size without allowing for the crochet.
Don's balls are the actual size stated when covered it's not too big a jump to get used to for the visibility it offers you. These also look fantastic with a Don Alan cup!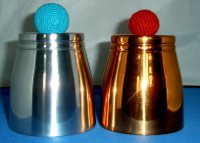 How Much Better Does That Look..?
I should also say that these are being produced in many colours, not just the ones advertised on the website so if you need a particular colour shoot Donnie an email and tell him I sent ya!
Available from: RNT2
Please remember - This site is a free resource so please pass on your thanks by mentioning us when you place an order for anything.
Thanks!