Cups and Balls
Cups and Balls Magic Reviews

Place your mouse on the above picture for a close up view
Product: Deluxe 3 Pewter Shell Game
Maker: Magick Enterprises
Price: £25
Overview: 9.3 / 10
At a Glance
| | | | | | | | | | | |
| --- | --- | --- | --- | --- | --- | --- | --- | --- | --- | --- |
| | 1 | 2 | 3 | 4 | 5 | 6 | 7 | 8 | 9 | 10 |
| Price | | | | | | | | | | |
| Construction | | | | | | | | | | |
| Suitability | | | | | | | | | | |
Review
Price: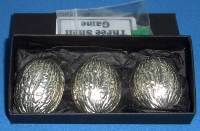 These were bought on a visit to Russell's shop in Sheffield. I honestly couldn't believe the price, £25 for the shells, peas and book! I expect that these were reduced as they were the last set in the shop. I have heard of these shells many years ago from Russ but never gotten around to buying them. I'm glad I got the last set!
What's Included?:
The whole package consisted of the Pewter Shells (in a stylish gift box), "Pom pom" Peas and a very comprehensive 26 page Eddie Joseph book.
Delivery Time / Packaging:
N/A, these were bought in the shop in person.
Construction / Durability: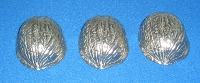 Well, these certainly look the business and they feel a very good weight indeed (thanks to the pewter.) I am guessing that as they get used the relief portions will get darker which should make them look fantastic.

They are not as "low profile" as the SFS Antique Copper Shells Tom reviewed here. I would say that these are more comparable to the Vernet shells in height.

Suitability:
I guess suitability can be split into 2 parts here as I didn't like the peas that came with these shells one bit so it loses a couple of marks there. The peas supplied were actually tiny green pom pom's, even latex / sponge peas would have been better.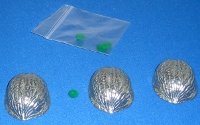 In order to steal these you have to lift the shell slightly. While it can be done it's not the same as using a different pea (such as the SFS perfect peas etc.) Of course it does mean that you can move the shells and keep the pea inside if you wanted to, however I prefer to work with the SFS peas. Luckily I had some of these.
The shells themselves have the appearance of being flat, however they make your life a lot easier by having the "Chanin Dip" feature. When these shells are used with the SFS Perfect Peas they work beautifully both for stealing and loading.
The weight and construction means that you can used them on most surfaces, smooth, felted etc without and worries.
Overall:
These shells are a hit with me. I like the way they handle and perform and their weight. I think they will look better and better with age too. The book deserves a mention here as it is great. There is a wealth of information, sleights, moves and subtleties within it's pages.
If you bought this as a package and added some better peas then you would be set. There is everything in the book (as well as 3 routines) you'd need. In fact, I would recommend the book on it's own, if Russ sells it that way it's well worth asking...
Available from: Russell Hall
Please remember - This site is a free resource so please pass on your thanks by mentioning us when you place an order for anything.
Thanks!