Cups and Balls
Cups and Balls Magic Reviews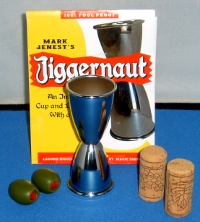 Place your mouse on the above picture for a close up view

Product: Jiggernaut
Maker: Mark Jenest
Price: £28.99
Overview:





5/5
Review
Price:
Jiggernaut is a well packaged piece and the props should last you a very long time, at close to thirty quid it's around the same price as a pocket chop cup but it has advantages over a bulky, heavier chop cup which are outlined below.
What's Included?:
This great little effect comes with the jigger itself, a video cd (mine didn't come with one but I placed a link at the bottom of this review to Alakazam as they supply one for the same price I paid), 2 very realistic fake olives, routine and 2 final load corks.
Delivery Time / Packaging:
2 days, well packed and in perfect condition.
Construction / Durability: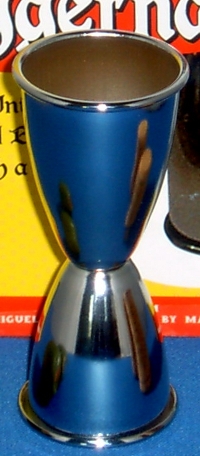 The kit provided is well made and while Jiggernaut is strictly not a chop cup routine the only thing I can compare it to is a chop cup. If you think of the thickness of a regular Don Alan chop cup then you will get an idea of the guage of metal it is spun from.
Of course the corks will last and can easily be replaced and the realistic fake olives look great and should last many years, though should they wear out or you loose one, Alakazam also sell these.
The olives themselves are a rubber material and are silent in operation, much better than the plastic ones some websites that stock fake food sell.
Suitability:
I love this little kit and I'll tell you why... Firstly you get to perform a very different cups and balls / chop cup type of routine with congruant props for a bar / pub setting but secondly (and perhaps most importantly) it is a perfect worker for the real world.
What do I mean by this? Well, for those working table hopping, bars, restaurants etc this ticks all the boxes. The routine follows the premise of the chop cup with the olive appearing back under the jigger, penetrations etc and you get a final load.
The act of putting the items back in your pocket instantly resets it and everything is very light to carry so it wont ruin the cut of your clothes. Finally, it uses objects everybody is familiar with. I have to say that I liked this so much I bought one for a friend.
Overall: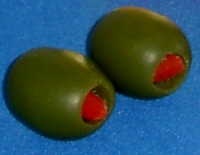 Overall I had to give this 5 out of 5. If you are a collector you might not be too interested in this other than to add to your cabinet but if you are a worker and you want something that will pay for itself then is a gem.
Nope, you are not getting any fancy gimmicks or super new secrets (and you will probably want to work out your own routine as I did) but if you want an item that will pay for itself in the real world then this is very worthy of your consideration.
Available from: Alakazam RNT2 stock RNT2 - Replacement Olives
Please remember - This site is a free resource so please pass on your thanks by mentioning us when you place an order for anything.
Thanks!