Cups and Balls
Cups and Balls Magic Reviews

Guest Reviewer Jeremy Bessette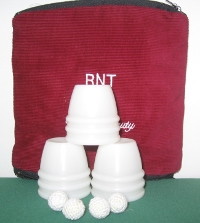 Product: White Beauties
Maker: RNT2
Price: I Paid $50 (Not Currently Available)
Overview:




4/5
Review
This was my first mini set of cups. I bought these on a whim. If you are looking for a set of cups that you can stroll with then these cups are perfect. They are really light and compact.
What's Included?: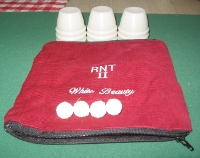 I received a zippered two compartment bag which holds the cups and the crocheted balls. Also supplied is a booklet containing the routine for these cups. The bag doubles as a close-up mat.
Construction / Durability:
The cups are made form delrin which is a hard plastic (ed note: acetal resin). The cups are very durable. As I was taking some picture of them on my close-up table, I drop one on the tile.
The drop was about 4ft, the cup landed on the side and (no lie) bounced back up 3ft! I was really scared to look at the cup but to my surprise there was no damage.
Suitability: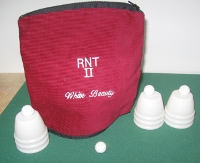 For me this set is only suitable for the display shelf. They are just way to light for my hands. Also they are somewhat transparent.
Overall:
These cups are neat. If you can find them at a good price like I did, then get them.
Available from: (No Longer Available.)
Thanks Jeremy!
Please remember - This site is a free resource so please pass on your thanks by mentioning us when you place an order for anything.
Thanks!