Cups and Balls
Cups and Balls Magic Reviews

Guest Reviewer Bruce Smith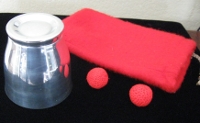 Product: Bell Shape Chop Cup
Maker: Tim Star
Price: $45
Overview:




3.5/5
Review
What's Included?:
This Cup was shipped with a red felt drawstring bag and 2 red crochet balls, one regular the other gaffed.

Construction / Durability:
Very good

Suitability:
I never saw a Tim Star Chop Cup before until I visited The Cups & Balls Museum. I was attracted to its shape from the moment I laid eyes upon it. Its shape is very close to that of the Don Alan Chop Cup; however the best way for me to describe the difference is that The Tim Star Chop Cup has more flair… think of pant bottoms from the 1970's.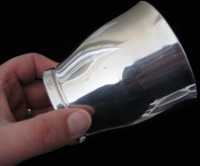 This Cup is probably 15 to 20 years old years old, at least that is what I have been told. It is a large Cup compared to others, and is somewhat light for its size. Even though the Cup is made of aluminum, I did expect it to weigh more. The Tim Star Chop Cup reminds me very much of a Don Alan Chop Cup, that is the indentation of the bottom (or top of the Cup) and the way the gaff is set into the Cup.
Performance wise, this Cup surprises me. During its hold-out action the ball just kind of floats on the gaff, yet stays in place even with extreme movements. When the time comes for the Cup to do its magic, the ball releases with ease…. In other words no exaggerated placement of the Cup is required. Compared to other aluminum Cups, a forceful set down of the Cup necessary to dislodge the ball. The Cup is also capable of hold a large ball for its final load.
Overall:
The Tim Star Chop Cup all in all is a fantastic performer, it works like a champ and has plenty of room for a baseball or large fruit for the final reveal. As I said above its shape is attractive.
Looking at Tim Star's current website (link below)there is a Cup pretty much identical to the Cup reviewed.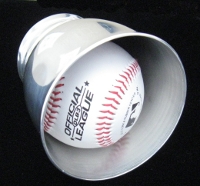 I like this Cup so much that I am looking to add some others from Tim Star to my collection. Again this is another fine Cup that I could recommend to others… its shape alone makes it really desirable, it defiantly is not another me too Chop Cup.
The only reason I rated it a 3.5 is because it is spun of aluminum (not my favorite), maybe one day I could find its brother made of brass.
Available from: Tim Star
Thanks Bruce!
Please remember - This site is a free resource so please pass on your thanks by mentioning us when you place an order for anything.
Thanks!