Cups and Balls
Cups and Balls Magic Reviews

Guest Reviewer Doug James
Place your mouse on the above picture for a close up view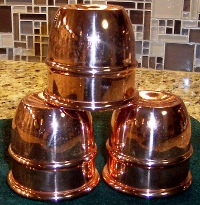 Product: Sisti Working Profressional Cups | Copper | Mirror Finish
Maker: RNT2
Price: Purchased used from a Magic Forum. (Retail $249.99)

Overview:





5/5
Review
What's Included?:
3 highly polished professional quality cups, off-brand set of balls, and a velvet drawstring bag.
Delivery Time / Packaging:
I purchased this set from a magic forum. Shipping from the UK took about 10 days. The cups were very well packaged in an oversized box with shredded newspaper surrounding the bubble wrapped cups.
Construction / Durability: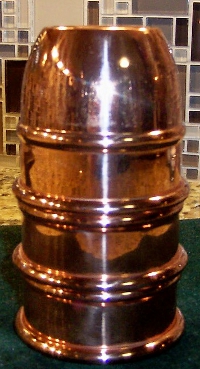 Spun in .50 copper, the mouth bead is perfectly formed and very tight against the side of the cup. They stack tightly and have a well-formed, deep saddle.

At 2 5/8" high and 2 5/8" inside diameter, this set is fairly compact. Stacked the full set totals 5" tall.

Final loads for these cups are standard lacrosse balls although I am using Ammar's Fab Fruit as final loads with this set.

RNT2's website states that the mirror polished Sisti Working Pro Cups are shipped with a satin finish on the interior. This particular set is highly polished both inside and out which is something I have seen only once before in my personal collection. (The other being a set of Smooth Copper cups by Brett Sherwood.)

Excepting abusive treatment, I can state with certainty that cups of this quality will last the average performer's lifetime.
Suitability:
While not suited nor designed for life on the street, the Sisti Pro's are of perfect size and weight for restaurant or bar work. Although they are noticeably heavier than the original brass Sisti Pro cups they are not so weighty as to rule out carrying them in a jacket pocket.

The shape and design of the Sisti Pro's make many of the standard moves (Galloping post, elevator, Fako, etc.) fairly effortless. They are very well balanced and roll back nicely with just a flick of the finger.
Overall:
I am thoroughly pleased with this set. The size is perfect for close up and parlor settings and the overall design and feel are just right in my estimation. Since adding this set to my collection, they have become my daily workers.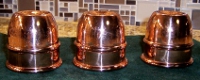 On a side note, when I was first smitten with the Cups and Balls, I felt that I must use the largest cups possible and produce huge final loads. I am now of the opinion that the size of the cup is of little consequence and find myself much more at ease with smaller sets like Monti's, JES Squatty, and Sisti Pro's.

These are as much cup as most will ever need and allow for very surprising climaxes when coupled with proportionate (read truly concealable) loads.
Without reservation I highly recommend the Sisti Working Professional's Cups.
Available from: RNT2
Thanks Doug!
Please remember - This site is a free resource so please pass on your thanks by mentioning us when you place an order for anything.
Thanks!