Cups and Balls
Cups and Balls Magic Reviews


Place your mouse on the above picture for a close up view
(Hold down your middle mouse scroll button to move around picture)

Product: Holly Wood & Ziricote Glitter Wand
Maker: Eric Hansen
Price: $45
Overview:





5/5
Review
Price:
Firstly, this is by no means a $45 wand. Personally, I have an issue with Eric's pricing (as do a few other people) because the quality of his work belies his prices. I believe that some people may expect a wand that is of a lower standard when they see the price.
Those who place an order however will be very pleasantly surprised. Eric's work is always well received and the very least you can say is that he over delivers. In my humble opinion this is at the very least a $100+ wand.
What's Included?:
The wand itself was presented in a bottle green velvet pouch with a red ribbon drawstring.
Delivery Time / Packaging:
This was actually bought from someone in the States with some cups, however when I have ordered directly from Eric the items have always been perfectly packed and arrived promptly. Eric is very honest, open and true to his word and come highly recommended.
Construction / Durability: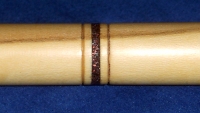 Eric is a true artisan with a flair for creating beautiful props that not only look great but handle and perform perfectly. I have yet to speak to anyone who owns one of Eric's pieces who isn't truly delighted with it.
All of Eric's pieces that I own are constructed perfectly and I have complete confidence in their durability and this wand is no exception.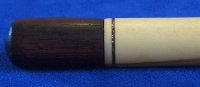 The wand itself is a touch over 13.1/2" long and 1/2" in diameter, the centre section being Holly Wood and the tips Ziricote. The bands and centre section are highlighted with subtle glitter accents.
Suitability:
As I have already said, Eric doesn't just make beautiful objects, they are all meant to be used! The wand spins very well, is well balanced and suits a smaller type of cup (at least in my opinion) than say a Sherwood.
Something like a Paul Fox, Monti or Sisti really brings this wand to life. I actually use this wand with my original Sisti's copper cups which have a very nice patina and the contrast between the shaft / ends of the wand and the coffee colour of the copper looks fantastic.
This wand is a fair bit lighter than the Cocobolo and Zebra Custom Wand Eric made for me, however I specifically requested a heavy wand when Eric made me that.
Overall:
I find it hard writing reviews for Eric's pieces because they always seem so biased but in truth, they are and I make no apologies for that.
To put it simply I know that anything I order from Eric is going to be good and he's yet to prove me wrong.
I really love this little wand and Eric has found a great balance in making it classy and understated. What I mean by that is the way in which the glitter has been used.
I have to admit that had someone told me they had a wooden wand with glitter accents I would have cringed, "glitter", it's just not me, however Eric has managed to incorporate it in this wand so that it is barely noticeable and it has an extremely classy look to it and the grain he has chosen really looks fantastic.
So, overall another 5 out of 5, it looks beautiful, it's very functional, perfectly constructed and amazing value for money.
Available from: Eric Hansen
Please remember - This site is a free resource so please pass on your thanks by mentioning us when you place an order for anything.