Cups and Balls
Cups and Balls Magic Reviews

Guest Reviewer Bruce Smith
Product: Don Alan Copper Chop Cup
Maker: RNT2
Price: $99.99
Overview:




4/5
Review
What's Included?:
The Chop Cup came with a nondescript black velvet like bag. The bag serves it purpose for storage and protecting the Cup. The Cup did not come with any balls.
Delivery Time / Packaging:
The Don Alan Chop Cup was ordered during the last days of RNT2, it took approximately a month to arrive. It was shipped using US mail and was packed so that it would arrive in one piece: the Cup was within its bag then bubble wrapped and newspaper was used to fill the void with in its box.
Construction / Durability:
Like other RNT2 products I was not disappointed in it construction or finish. This is a somewhat of a heavy Cup. It has a nice heft and feel to the hand. Its finish is of a highly polished copper, almost mirror like… with a little elbow grease I was able to make it shine brighter.
Suitability: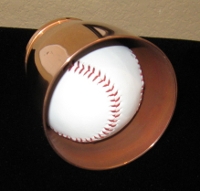 The Don Alan Chop Cup performs as well as other favorite Cups in my collection. Currently I am using the RNT2 adjustable balls (I would recommend these balls for this Chop Cup or any other); once the gaffed ball was fine tuned to the Cup, the slightest of motion enabled the Cup to do its magic. The Don Alan Chop Cup is capable of revealing a large final load, up to a baseball. Its shape helps with the illusion that the final load is perhaps larger then the Cup.
Overall: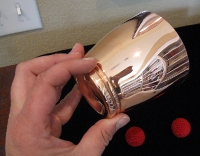 This is another great classic Chop Cup from RNT2. From what I have read, RNT2 has the exclusive rights to make Cups using the Don Alan name. Supposedly, Don Alan himself signed off on its design and the original RNT and RNT2 has been using this design since the 70's. As I mentioned above this is a heavy Cup… this is an advantage being that the Cup pretty much does all the work, the slightest of motion will allow the Cup to do its thing.
I have other versions of Don Alan Cups, my favorite are those that have a liner. The liner (at least to me) makes the Cup look more finished and assists with the magic. I would like to see maybe a Don Alan Cup with a beaded mouth. For slightly more money then a large Morrissey or Bazzar De Magic type Chop Cup, you can have a world class prop that will provide years of use and possibly add some class to your performance. Yes I would recommend this Cup in a heartbeat.

Available from: RNT2
Thanks Bruce!
Please remember - This site is a free resource so please pass on your thanks by mentioning us when you place an order for anything.
Thanks!