Cups and Balls
Cups and Balls Magic Reviews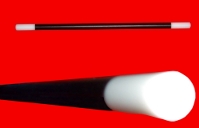 Product: The SBL Delrin Magicians Wand
Maker: RNT2
Price: No Longer Available
Overview:





5/5
Review
Price:
Unfortunately the SBL Delrin Magicians Wand is no longer available. They do (very occasionally) appear on eBay or The Magic Cafe though...
What's Included?:
The Delrin Wand. I believe that RNT2 originally planned on producing a range of tips as they are threaded and therefore removable.
Delivery Time / Packaging:
This wand was bought from The Magic Cafe, it arrived very well packed and a stiffened envelope smothered in bubble wrap! It took approx 2 weeks from USA.
Construction / Durability:
The SBL Delrin Wand is very well made indeed. Measuring 1/2" in diameter and 13 1/4" in length. The Delrin material itself is very durable and solid and the wand is constructed with removable tips although they have something like a 1/4 thread on them which should hold up nicely.
It's beautifully finished, straight as a die and has a faint embossed pattern along its length which actually helps with the grip. I have to confess to dropping it a couple of times and so far it is still perfect.
There is no noticeable step between the tips and the centre (one of my pet hates!)
Suitability:
This wand was developed with one purpose in mind and that was to allow you to strike your precious cups with a wand which wouldn't damage them.
Jake from RNT2 states on their website that he struck cups ranging from sterling silver to nickel and chrome over 300 times and no damage occurred.
While I have not counted exactly how many times I have struck cups with this wand I can contest that I have used it safely on sterling silver, copper and chrome finished cups.
Overall:
In summing up I rate this wand and it comes highly recommended. If you want a traditional looking wand with a good weight that spins well and most certainly wont harm your cups then this is your answer. Many people plum for wooden wands when wanting to save cup damage but this is a very worthy contender.
While it may not be readily available it is certainly worth tracking down...
Originally Available from: RNT2
Please remember - This site is a free resource so please pass on your thanks by mentioning us when you place an order for anything.