Cups and Balls
Cups and Balls Magic Reviews

Guest Reviewer Bruce Smith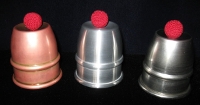 Place your mouse on the above picture for a close up view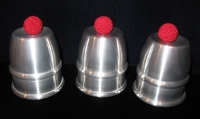 Product: 3 Monti Cups Comparison… Copper, Aluminum & Stainless Steel
Maker: RNT2
Price: Copper Used $125, Aluminum Used $25 & Stainless Steel Used $85
Overview:




4.3/5
Review
What's Included?: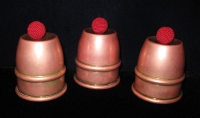 All the Cups were purchased as 3 cup sets used, each included a bag. It should be noted that the Copper Monti Cups came
with an original embroidered red RNT2 bag with RNT2 balls and the Stainless Monti Cups came with what appear to be a set of 4 each, Morrissey brand balls.
Construction / Durability:
All in all how can one go wrong with cups spun by RNT2? My best guess is that this grouping of cups was spun as early as 2004 and 2009. The oldest would be the Copper Monti Cups and the Aluminum and Stainless Steel Monti Cups spun recently.
Each set arrived in perfect condition with the copper set being highly polished and the aluminum and stainless steel sets having a satin finish. I have been using the Copper Monti Cups and they seem to be turning or showing the promise of a nice brown patina.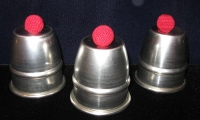 Each set basically looks identical to their brothers and interchange perfectly when mixed as a stack. The cups are about 3 inches high and roughly 2 ¾ inches wide. I don't know if it is my imagination or not, but the saddle of the aluminum cups
seems to be a hair wider. Other then weight, each cup feels identical with the copper and stainless steel being the heaviest.
The stack of Aluminum Cups feels as though they don't weigh as much as a single copper Monti Cup. I cannot find fault with the construction of any of the cups.
Suitability:
The Monti Cup's classic single bead shape came to be in the 1970's and was conceived by Harry Montieth. The originals I believe were spun from stainless steel.
The Monti Cups are a mainstay of the RNT2 line of cups and have been spun in many different types of metals throughout the years. Besides the ones I have there have been Montis spun in church bronze, gun metal and brass (I am sure that I have probably missed a metal or two.)
To add to the variety of Monti Cups there are also combo variations available. The Monti Style is probably the most copied Cup design by other manufactures to date, however most fall short to what RNT2 has to offer.
The Monti Cups feel well in my hand, I would consider them a medium sized Cup. Out of the three sets the copper and stainless steel cups are my favorite.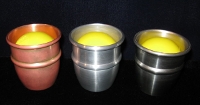 They feel so much better than the aluminum version. The main difference is weight, being heavy handed the aluminum cups are just too light making them seem awkward to me. I have been using them with 7/8 inch sized balls which when need be, can be safely hidden within a stack of cups and do a 3 ball saddle reveal.
As to a final load, the Monti Cups can accommodate a lacrosse ball, however if a lacrosse ball is pushed too far into the cup, the ball could stick.
Overall:
What can one say that has not all ready been said about a true classic? The Monti Cups have been around for a long time pleasing their masters everywhere. I am sure that we will be speaking of them for many years to come.
Copper verses stainless steel is a tossup to me… They both feel and look great. I suppose with a dark suit in a more formal setting, the stainless steel cups might look better.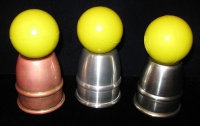 If I were to dive deeper into the difference in metals; the best that I can come up with is the copper cups feel warm and alive, the stainless steel cups seem to feel clinical and matter of fact and the aluminum cups just feel light and dead (those with cup fever will understand what I mean).
The Monti cups are a good sized cup for those with small or large hands. The best complement that I can give the Monti cups is… that they are the type of cup one could be satisfied with for the rest of their life… only if you don't have cup Fever.
Available from: RNT2
Thanks Bruce!
Please remember - This site is a free resource so please pass on your thanks by mentioning us when you place an order for anything.
Thanks!