Cups and Balls
Cups and Balls Magic Reviews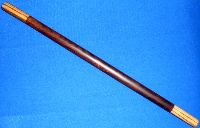 Place your mouse on the above picture for a close up view
(Hold down your middle mouse scroll button to move around picture)
Product: Cocobolo and Zebra Wand
Maker: Eric Hansen
Price: Special Order Only
Overview:





5/5
Review
Price:
Eric doesn't make magic full time and it's also quite rare for him to make wands and, as his pieces are all "one off's" he can quite often get backed up with orders. Because of this Eric might not be able to take on bespoke work too often.
This was a special order and I was lucky, I managed to catch Eric when he wasn't as busy. Price wise it was a good deal however as this was custom each price will be different.
What's Included?:
The wand itself
Delivery Time / Packaging:
Only 12 days from Canada and packed perfectly.
The wand was packed in multiple layers of tissue paper and taped up. Then bubble wrap and finally in a rolled up padded jiffy envelope.
It arrived in perfect condition and in great time.
Construction / Durability: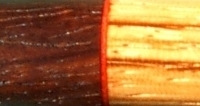 The contruction of this wand is a cocobolo shaft with a fine red veneer line prior to the zebra wood tips
This was a custom wand and it was constructed perfectly. Eric's an artist and really took notice of what I wanted even though I left the actual measurements etc to him.
I requested fine red bands at the joints and these are perfectly executed, leadingfrom the Cocobolo to the Tiger wood tips. The whole thing is perfectly smooth with no steps or ridges and has a great feel to it.
It's well balanced and spins perfectly as the wood is quite dense and heavy. It's a solidly put together wand. The finish is natural with a little Tung oil to protect it. I don't like the way varnished wands feel clingy during spins etc.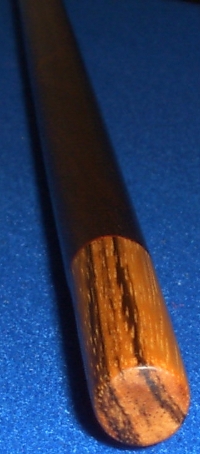 Suitability:
Man I love this wand! It's perfectly suitable for everything I want it for. It is perfectly balanced, spins wonderfully and it looks beautiful. As I said above it is solidly put together and while I could use it to strike cups without damaging them, I wont...
Initially I wanted a wand to use with cups that would not damage them but I don't want to damage this wand, I love it so much! If I want to bash the heck out of something I have my old Ironwood wand.
This is also the perfect thickness. I requested it to be a little thicker than a wand I had and Eric has done a great job.
Overall:
Overall, what can I say, I asked and I got! I couldn't be happier. My first contact with Eric was when I ordered the Birch Burl Chop Cup and the Chechen and Black Walnut Chop Cup from Eric and was over the moon with them. Eric's products not only look great but they all function perfectly and are a joy to use.
I decided that I would like a wand from Eric after seeing a few pictures on a website and so I mailed him some specs and I have to be honest in saying that he exceeded my expectations.
Available from: Eric Hansen
Please remember - This site is a free resource so please pass on your thanks by mentioning us when you place an order for anything.