Cups and Balls
Cups and Balls Magic Reviews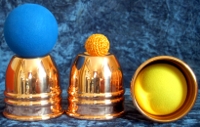 Product: Mirror Finished Clear-coated Paul Fox Cups Set 1 of 2
Maker: RNT2
Overview:





5/5
Review
What's Included?:
The cups, plain bag and 7/8" Phoenix Sunfire balls and the C.O.A
Delivery Time / Packaging: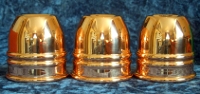 14 days from the states, however there were postal strikes in London so these were obviously delayed. Packed perfectly in a large box with polystyrene pellets. The cups themselves were wrapped individually in tissue, stacked and wrapped in bubble wrap.
Construction / Durability: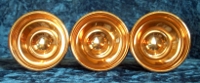 Construction and durability are, as usual with Jake's work very good indeed, it's a little hard to write this review because Bruce (as always!) did such a great job here on the RNT2 Paul Fox cups already.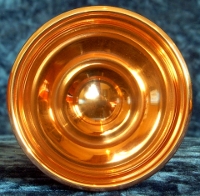 The main feature with these cups however is the finishing. These are #1 of only 2 sets finished this way. Both the outsides and insides have been polished to a perfect mirror finish and then clear coated.
The finish on these cups is flawless and they will never need polishing, they are the Dorian Gray of cups if you will!
They stack and nest perfectly with a minimum of play and handle great.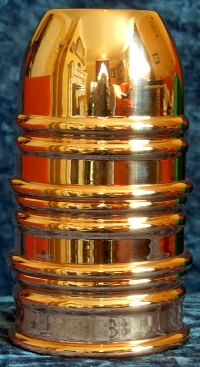 Suitability:
These, like most PF type cups take a lacrosse ball which looks very deceptive on the saddle. They work perfectly for all the usual moves and sleights with the 7/8" balls that come with them, 3 of which sit perfectly on the saddle without sticking or floating.
Overall:
Overall I couldn't give these any less than 5 out of 5 all round, they look fantastic, handle flawlessly and will never need to be polished. It's funny, last week I reviewed the Sisti cups and loved them because of the deep, rich, coffee coloured patina yet I love these because of their flawless mirror finish! Whether you look at these as a set of cups to use as workers or to collect, they are great cups either way.
Comparison:
A thread appeared on an internet forum not so long back regarding the Paul Fox and Jes Squatty cups. The pic below shows a comparison with the Paul Fox on the right. As you can see the beads (and skirt) are different and the width of the cup also differs. A Paul Fox cup will take a (smaller) lacrosse ball, a Squatty wont...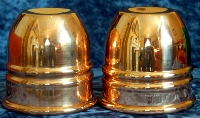 For more info on this you really need to check out Bill Palmer's cups and balls museum, Bill has forgotten more regarding cups and balls than I will ever know...
Available from: N/A