Cups and Balls
Cups and Balls Magic Reviews
Click on the picture above for a close up view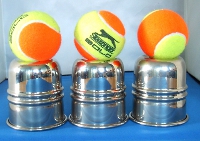 Product: Keith Bennett Cups
Maker: Formerly Keith Bennett
Price: £125
Overview: 10 / 10
At a Glance
| | | | | | | | | | | |
| --- | --- | --- | --- | --- | --- | --- | --- | --- | --- | --- |
| | 1 | 2 | 3 | 4 | 5 | 6 | 7 | 8 | 9 | 10 |
| Price | | | | | | | | | | |
| Construction | | | | | | | | | | |
| Suitability | | | | | | | | | | |
Review
Price:
I bought these on a popular auction site, however the new price is £125. These cups are a steal at the new price of £125, they are true workers cups and beautifully manufactured. The Nickel plating alone would cost around £45 if you had it done to a set of your own cups.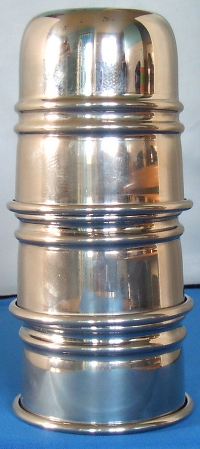 What's Included?:
The cups, black velvet bag and balls.
Construction / Durability:
These cups are spun in heavy brass and the nickel plated. The design is very nice and also lends itself to being a very sturdy cup indeed. These will take a lot of hammer! The saddle in particular stands out as it is not dissimilar to a Don Alan chop cup saddle. You'll have no fear of a ball falling off a cup because of a shallow saddle.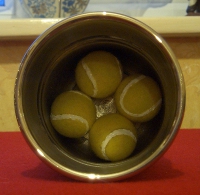 Suitability:
One thing I immediately noticed about these cups is the lack of taper from the top bead to the saddle, making for a huge attic space. You'll have no problem if you wish to sit 3 balls on the saddle, in fact these take 4 on the saddle and in the attic! Without a doubt these cups would suit a close up environment and they would be equally at home on the street.
Overall:
Overall these cups are highly recommended, they are nicely designed and manufactured to a very high standard. Their weight is very nice and they are suitable for many different performing situations. These are the cups that Bobby Bernard thought were the best cups he had ever seen, who am I to argue with Bobby!
Measurements (mm)

Inner Mouth Diameter

72mm

Outer Mouth Bead Diameter

82mm

Inner Depth (to centre of dip in saddle)

72mm

Height

80mm

Saddle Width

47mm

Stack Height

175mm

Weight (oz)

Per Cup
5.29oz
Set
15.8oz
Available from: Brian Watson Magic
Please remember - This site is a free resource so please pass on your thanks by mentioning us when you place an order for anything.
Thanks!