Cups and Balls
Cups and Balls Magic Reviews

Competition Review
*** Win This Chop Cup ***
(Details at the end of the review.)

Click on the picture above for a close up view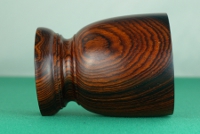 Product: Cocobolo Chop Cup
Maker: Hidden Wren (Gareth Gwatkin)
Price: £75
Overview: 10 / 10
At a Glance
| | | | | | | | | | | |
| --- | --- | --- | --- | --- | --- | --- | --- | --- | --- | --- |
| | 1 | 2 | 3 | 4 | 5 | 6 | 7 | 8 | 9 | 10 |
| Price | | | | | | | | | | |
| Delivery | | | | | | | | | | |
| Construction | | | | | | | | | | |
| Suitability | | | | | | | | | | |
| Overall | | | | | | | | | | |
Review
Price:
The amount of work that goes into Gareth's cups is astounding, the fact that he makes fine furniture for a living is apparent when you look at any of his pieces.
Aside from the fact that this comes with a set of high quality Danis adjustable balls, this cup is genuinely worth £75 of anybody's money because it's a real worker. When I say it's a real worker I mean it. I know of at least 2 pro's using Gareth's cups nightly (more about that later on.)
What's Included?: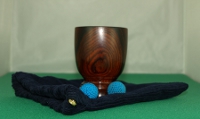 Gareth's actually gone to town on this and his attention to detail is something that you will greatly appreciate. Gareth not only supplies a very hard wearing, durable and well made corduroy drawstring bag but perfectly matched and set up Danis balls.
François and Pascaline Danis make some of the best balls in the business and Gareth's cups come perfectly set up and ready to go out of the bag with a perfect action.
Delivery Time / Packaging:
Again, just as with the wand, this arrived the day after the postmark, perfectly wrapped in bubble wrap in a sturdy box. It arrived in perfect condition. Remember that Gareth is in the UK so if you are ordering from outside the UK it will take a little longer.
Construction / Durability:
The first thing you notice about this chop cup is that it doesn't appear to be a chop cup. Usually there are signs that a cup is gaffed (which I wont go into as this page is available in the public domain), yet this has none.
The process that Gareth uses is very intricate and time consuming (probably more so than you think) and this attention to details pays off, not only in aesthetics but also in durability.
Not only does this cup look elegant and natural it is also remarkably durable, which is probably why Gareth's cups are quietly being used by working pro's who have stopped worrying about dropping their cups in case they break.

Suitability:
This cup is particularly well balanced and feels very ergonomically comfortable to work with. The Cocobolo is reassuringly weighty as well as being beautiful to look at.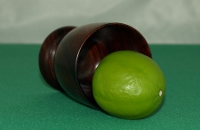 The cup works perfectly with the Ammar Fab Fruit Lime (or a real one for that matter!) and looks stunning with the rich green contrast, making the final load really pop out.
Though the Danis balls are adjustable, the action that this cup came with (set up by Gareth before it was sent) was 100% spot on, allowing a very natural and innocent handling.
Overall:
Overall, this is a beautifully constructed cup with clean lines, an elegant shape and a well thought out contour that fits the hand perfectly when in the inverted position.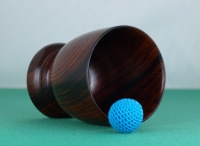 The balls are matched and set up perfectly and are of a very high quality. This is a cup I wouldn't think twice about using night after night after night. It's a workers cup.
The only negative thing I can say about this cup is that it's a competition prize, and I really don't want to part with the darn thing (and writing this review hasn't helped!)
Competition:
As it says above, this cup will be a competition prize to one lucky winner. The cup, balls and bag only will be supplied, not the Fab Fruit.
To be fair to everyone I will also be announcing it on The Magic Cafe, Magic Bunny and Cupscon and allowing people to enter via the forums too.
Click below to see how to enter...
Competition Now Closed
Available from: Hidden Wren Magic

Please remember - This site is a free resource so please pass on your thanks by mentioning us when you place an order for anything.
Thanks!
© 2010 Cups and Balls Magic