Cups and Balls
Cups and Balls Magic Reviews

Guest Reviewer Bruce Smith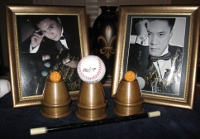 Place your mouse on the above picture for a close up view
(Ed note: For those drooling over that wand, it's one of Rannie's too. Bri)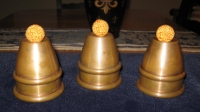 Product: Cellini Copper Cups
Price: (Purchased Used From Magic Forum)
Overview:




4/5
Review
What's Included?:
The Cups were sold as a set of 3 only, no bag nor balls were included.
Delivery Time / Packaging:
The Cups arrived rather quickly from the Philippines to the USA, in about 3 weeks time. They were wrapped in several layers of bubble wrap and foam, shipped within a padded envelope.
Construction / Durability:
One word can describe the construction of the Cellini Copper Cups that is tank… these Cups are built like a tank, an armor plated tank. Of all the Cups I own these are probably made of the thickest copper yet.
This should not come as a surprise to anyone who knows of the Cellini Cups, from what I have learned while researching these Cups, from day one they were spun to be a working Busker's Cup.
From what I have read, Jim Cellini did not design the Cups nor are they his go to Cups (though he has used them.) The Cellini Cups may have a bit of Garcia Cup to them… that is like the Tannen Garcia Cups, they were never designed or indorsed by Frank Garcia (kind of a marketing ploy.) Some say that Cellini has made comment that he would have designed the saddle and skirt differently.
Each Cellini Copper Cup stands about 4" tall and is about 3.5" wide, when stacked the set is 7" high. The shape of the Cups is rather unusual… think truncated Traditional Cup shape or cone-like. The Cup is single ringed with a straight skirt; however the Cup tapers rather quickly to the top (or bottom) with a pronounced saddle that pretty much will cradle one ball.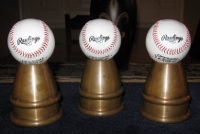 The Cellini Cups cannot display a 3 ball reveal because of its small saddle area, especially if the balls used are the proper scale to the Cup. For most this should not be a problem depending on one's routine, but the payoff is that the Cellini Cups make one hell of a showing for final loads (more on this below).
Suitability:
Now I am by no means a Busker, far from it, I perform mostly at family functions or for business acquaintance. The only other so called Busker's Cups that I have used have been RNT2 Chick Cups; therefore I have not had much to compare the Cellini Cups to. These are a good sized Cup, however they fit the hand well due to their shape… it is how they taper.
Even those with small hands should be able to manage these Cups. The way the Cellini Cups are balanced, they can be easily tipped by a wand to display hidden balls and certainly whacked by a wand without damage… (I have heard whacking is a street thing.)
Pretty much most of the standard moves can be made with the Cellini Cups. Where the Cups might fall short is that there is little attic space, the saddle is very small and boy do these Cups wobble when stacked (these are not necessarily bad traits.)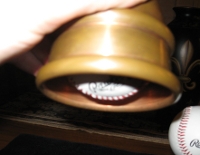 When it comes to a final load, the Cellini Cups can conceal a baseball just by the hair of their teeth. With such a tight tolerance, there is a benefit to these Cups… The Cellini Cups kind of act like a Chop Cup in that the stitches of the baseball, catch from within if the ball is pushed deeply within the Cup.
One can load a Cup and set it on the table; lift it and show nothing there and in the act of setting the Cup down release the ball quite easily. Once the baseballs are revealed, displaying them on top of the Cup (or bottom) is really impressive. The shape of the Cellini Cups creates one of the best illusions of never being able to contain such a large load.
Overall:
The Cellini Copper Cups probably never will be my go to Cups, however if you are a Busker quite a few of your brothers highly recommend this Cup. Without question these Cups can withstand the street life due to their build. These are heavy stout Cups. I added them to my collection due to their appearance… rather traditional but yet so different with their cone-like shape.
On a side note, I am quite pleased to own these Cups; the former owner is Rannie Raymundo (The Boss.) Rannie besides being an excellent and entertaining performer is one of nicest guys I have met through the different websites we all visit. This set of Cellini Copper Cups developed a great patina while in Rannie's possession and boy do they look good.
All in all, if you have the opportunity to play with a set of Cellini Cups do so; they are different enough from what is out there that I found them enjoyable just on that alone. As a Busker's Cup I have read nothing put positive remarks, those that use them love them.
Available from: Zauberladen Zurich (Europe) or Ambitious Card (USA)
Thanks Bruce!
Please remember - This site is a free resource so please pass on your thanks by mentioning us when you place an order for anything.
Thanks!