The Invisible Hand Holdout...
Those of you who are familiar with the Vernet magic company may know Michel & Greco of Michel & Greco Magic Prods, who acquired Vernet in 1994.
Michel (Miguel Ángel Clavello) and his closest friend, Greco (Carlos Garavaglia) set themselves the objective of keeping and increasing the reputation of Vernet and if Michel's recent close up set and lecture at the Blackpool convention is anything to go by, Vernet is in very safe hands!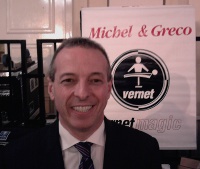 Michel certainly caused a stir with the Invisible Hand after a flawless demonstration at his lecture. What Michel has done to improve the original Jack Miller holdout with the Invisible Hand is (in my opinion) a very important contribution indeed.
Michel is a very engaging and charismatic performer and an excellent lecturer, I would recommend that any magician catch his lecture if they can.
For an in depth review of the Invisible Hand, DVD set and the attachments, click here.