Cups and Balls Magic
The Bruce Smith Collection...
Chop Cups



(Place your mouse over the picture for an enlargement)
Row 1: (Back Row)
RNT2 Copper Ken Brooke, Tannen's Aluminum, Tim Star Aluminum Bell, RNT2 Copper Don Alan, RNT2 Aluminum Don Alan
Row 2:
RNT2 Aluminum/w Bronze Liner Stubby Don Alan, RNT2 Copper Worker's, Original Rings N things Aluminum Julep,
RNT2 Aluminum PF, RNT2 Copper/w Bronze Liner 50th Anniversary Stubby Don Alan
Row 3:
RNT2 Copper Ken Brooke Stubby, RNT2 Chrome Strolling, RNT2 Copper Strolling, RNT2 Aluminum Strolling, Tannen's Hammered Copper, Johnson Products Brass Golden Chop Cup, Collector's Workshop Caliph's Cone
Row 4:
Eric Hansen Various Wood and sizes (Cups 1-7), Collector's Workshop Wooden Hindu Cups
Cups & Balls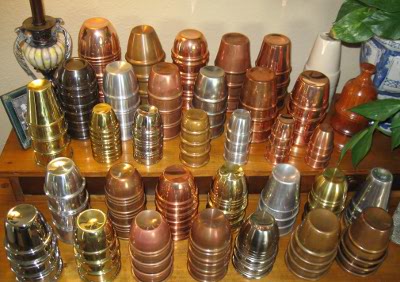 (Place your mouse over the picture for an enlargement)
Another View

Row 1: (Back Row)
RNT2 Copper Chick Cups, Zauberladen Zurich Copper Cellini, RNT2 Copper Traditional, James Riser Copper, Traditional Found Cups Ceramic (Ikea)
Row 2:
RNT2 Black Chrome Princess 2, RNT2 Aluminum Monti, RNT2 Copper Monti, RNT2 Stainless Steel Monti, RNT2 Copper JM1, RNT2 Copper Phoenix 2, ? Wooden Cups
Row 3:
Pete Biro Brass Johnny Paul, RNT2 Brass Foxy 2, RNT2 Stainless Steel Mini PF, James riser Copper Mini, Ickle Pickle Aluminum Mini Combo, Ickle Pickle Copper Mini, C&BM Copper Commemorative Cups
Row 4:
RNT2 Chrome Classic, RNT2 Copper Squatty 2, RNT2 Copper Foxy 2.5, Johnson Products Brass Golden Cups, Ireland's Aluminum Laurie Ireland's Cups, RNT2 Church Bronze Squatty, Birelli Aluminum Traditional
Row 5:
Magic INC Chrome Charlie Miller, RNT2 Brass Sisti, PF DD Copper Type 2 Paul Fox, RNT2 Copper PF, RNT2 Stainless Steel PF, Magic INC Copper Charlie Miller, Tom Frank Mint Copper Phoenix
Wands



(Place your mouse over the picture for an enlargement)
Profile
Name: Bruce Smith
Resides: Denver, Colorado, USA
Occupation: Sales Consumer Electronics
Years in Magic: Over 30+ years, started as a child in the 70's. Like others I have left the hobby and have returned many times throughout my life, most recently a year ago… that is when I caught Cup Fever.
First set of real Cups: RNT Monti Aluminum Combo Cups, 1978-79 I paid $29.
Magic Status: Serious hobbyist, dreams of opening a brick and mortar magic shop.
Magic Interests: Close-up Magic and Magic History… seriously afraid of clowns (have learned to cope with Mad Jake). (Ed note: The technical term for this is "Coulrophobia" and I can help with it Bruce!)
Other Interests: Music, High Performance Stereo Systems, I love Jazz Trios. I love music but can't play an instrument, but I can play a stereo.
Thanks Bruce!