Cups and Balls
Cups and Balls Magic Reviews

Click on the picture above for a close up view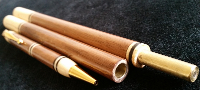 Product: Andy Hurst 2 Part Wooden Magnetic Wand
Maker: Andy Hurst (emagictricks.co.uk)
Price: From £75
Overview: 10 / 10 Highly Recommended!
At a Glance
| | | | | | | | | | | |
| --- | --- | --- | --- | --- | --- | --- | --- | --- | --- | --- |
| | 1 | 2 | 3 | 4 | 5 | 6 | 7 | 8 | 9 | 10 |
| Price | | | | | | | | | | |
| Delivery | | | | | | | | | | |
| Construction | | | | | | | | | | |
| Suitability | | | | | | | | | | |
| Overall | | | | | | | | | | |
Review
Price:
This is what Andy calls a "basic" model (even if I think it's pretty fancy!) and prices start at £50 for the wand and £25 for the pen. Because Andy can make anything you request, the price can vary depending on the complexity of the construction and the woods used.
For the amount of work and the quality of the workmanship, my honest opinion is that it is priced too low. I've paid a lot more for a wand that I've never used for fear of it breaking (even though it is beautiful.)

If you're reading this Andy, put your prices up!

What's Included?:
The 2 piece wand and, in this case a pen with gold plated hardware. As this was a "one off" for me there was no leather wallet, however I believe Andy will be taking orders for these and looking into leather wallets.

Delivery Time / Packaging:
This was just over a week being made and sent next day delivery (Andy is in the UK too), packaged very well, sandwiched between heavy card, bubble wrapped and also wrapped in heavy packing film before being placed into a jiffy envelope. Both pen and wand arrived in perfect condition.
Construction / Durability:
The Wand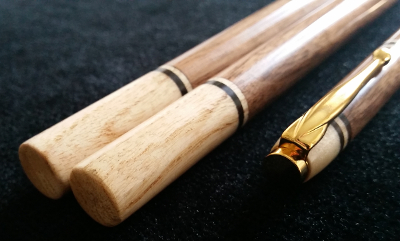 The wand is constructed beautifully with a lovely high gloss, perfectly smooth finish which still has enough grip for handling and spins.

The main shaft is made from dark walnut with ash tips and African Blackwood bands.
The brass section is slightly tapered and features magnets both in the brass section and inside which instantly grip the 2 halves together perfectly.
The Pen
The pen is made of identical matching woods and features the same finish as the wand. The hardware is 24k gold plate and the whole pen has a really beautiful, classy feel.
It is important to note that if you wish Andy to make you a pen, you do need to specify that you need it at the same time when ordering the wand as he makes them to match from the same wood.

Suitability: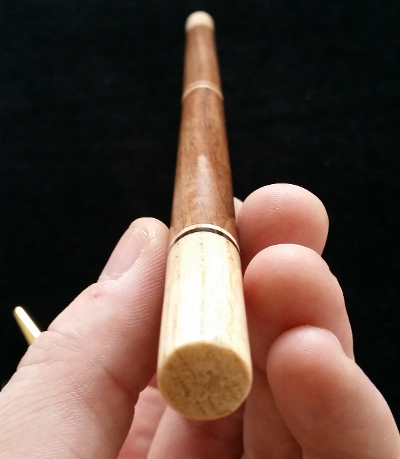 I have always wanted a magnetic wand, simply for the "James Bond" element of having a great gadget! I wasn't sure if it would be practical, however I was very pleasantly reassured when I tried it out. It works, and it works WELL!
It is perfectly balanced for spins etc. I feel at this point that I must explain something, most of the time, when people advertise wands as "perfectly balanced" it means nothing, because as long as the tips are the same length and made of the same materials it WILL be perfectly balanced, however...

This is a 2 part wand which has metal fittings in each side, this is different. If it is not constructed well it is possible for the centre of gravity to be shifted and unbalance the wand.

I am happy to say that this wand is perfectly balanced and handles like a dream for the drummers and Vernon - Mora spin.
I have even tried the striking vanish with it and the magnets don't dislodge!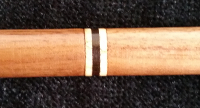 The only thing I would advise against is using this wand on the streets to bash the living daylights out of your cups, however that's not what you would buy a beautiful wand like this for anyway. That's what drumsticks are for!

Overall: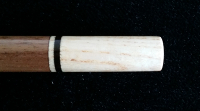 I've waited many years for a good quality, magnetic 2 part wand and it was well worth the wait. Price, quality, durability and handling are all superb. I'm truly over the moon with it, and the pen was the icing on the cake!
Highly recommended!
If you wish to order, I would suggest you contact Andy at: sales@emagictricks.co.uk
Available from: emagictricks.co.uk

Please remember - This site is a free resource so please pass on your thanks by mentioning us when you place an order for anything.
Thanks!