Cups and Balls
Cups and Balls Magic Reviews


Click on the picture above for a close up view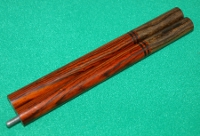 Product: 2 Piece Cocobolo, African Blackwood & Macassar Ebony Wand
Maker: Gareth Gwatkin (Hidden Wren Magic)
Price: From £100
Overview: 10 / 10 Highly Recommended!
At a Glance
| | | | | | | | | | | |
| --- | --- | --- | --- | --- | --- | --- | --- | --- | --- | --- |
| | 1 | 2 | 3 | 4 | 5 | 6 | 7 | 8 | 9 | 10 |
| Price | | | | | | | | | | |
| Delivery | | | | | | | | | | |
| Construction | | | | | | | | | | |
| Suitability | | | | | | | | | | |
| Overall | | | | | | | | | | |
Review
Price:
Gareth's wands are priced according to the design of each. The materials involved, manufacture and labour time, whether it is a solid or 2 piece, number of bands etc are all a deciding factor.
This wand (priced at £100) to me is worth every penny. In fact I would have paid £30 for the leather case alone.
The quality of the wand (and case) really speaks for itself and I expect it to last for many years to come.

What's Included?: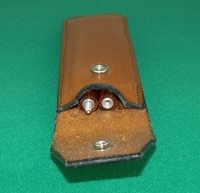 The 2 piece wand itself and a very high quality leather case featuring a press stud fitting. As an aside, the press stud fitting is the only thing in this ensemble which wasn't hand made. Everything else, the wand, metal fittings and case etc was all hand crafted.

Delivery Time / Packaging:
Gareth is also in the UK so it was received only the day after the postmark. The wand was well wrapped in bubble wrap and housed in a sturdy cardboard box. It arrived in perfect condition.
Construction / Durability:
The Wand
The construction of this wand is nothing short of beautiful. In order to understand how well this is constructed you should know that Gareth is not a magician who has learned a little about woodworking in order to manufacture a few props.
Gareth is a fully time served craftsman, a cabinet maker and turner by trade who spends his days building full size pieces of fine furniture comissioned across the UK and Europe.
Add to that Gareth's strong background knowledge and understanding of magic and you have a winning combination. When someone of such a strong pedigree tells me they are making wands and cups, I Iisten.
Where can I start? Well, the woods chosen are subtle and very classy. This is really a very tasteful wand indeed. The Cocobolo, African Blackwood and Macassar Ebony contrast beautifully and the more you look at it, the more you appreciate it.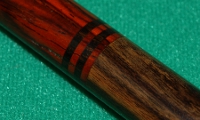 The finish on the wood is also just right. I have seen wands which in my opinion are over finished and almost look like plastic. Gareth has let the wood do its thing and speak for itself, he obviously really understands wood and how to bring out its natural beauty. Also, and very importantly, the finish is neither too sticky that it clings to your fingers or too slick that it flies out.
The bands which accent the tips of the wand are flawlessly finished and there is a serious amount of work that goes into creating these all by hand. Though you may not think it at first, this wand is manufactured from 12 pieces of wood yet it is finished to such a high degree that it feels uniformly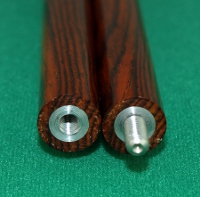 smooth along its whole length. In fact I handed it to a magician recently who didn't even realise it was a 2 piece wand until I unscrewed it.
The fittings are also manufactured by Gareth and from speaking to him a lot of research and development went into the final design to get them "just so."

The fit is tight and solid and the grain lines up perfectly without the need for spacers etc. You have to look very closely to see that it is actually a 2 piece wand.
As for its durability, I own a few 2 piece wands and I have to say that I wouldn't worry about using this at all. I do have 2 piece wands that I wouldn't want to use as workers for fear of dropping them but this is not such a wand.
I have already killed 2 Magic Makers wands (1 of which was dropped from waist height onto carpet) but I am very confident that this wand will last and can be used as intended.
During a lengthy telephone conversation to Gareth when I first enquired about his wands we discussed many people's fears of dropping 2 piece wands. Gareth's response was to hold the phone out and toss a wand (his own worker I may add, not one for sale!) onto the concrete floor of his workshop without damaging it.
He also did the same with one of his chop cups, in fact I know of a couple of performers in the UK who use Gareth's cups nightly and have accidentally dropped them many times with no ill effects.
Of course, while you may be able to do this without damaging them I would not recommend it and Gareth stresses that he cannot offer any guarantees because wood is a natural material and will not always behave predictably.
The Case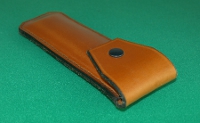 The case was quite a nice suprise as I didn't expect it. When I opened the package and saw the case I instantly knew that the wand inside would be special. A wand that required such a lovely case must be!
The leather is nice and thick and well stitched and it accents the wand beautifully and (at least for me) really adds something.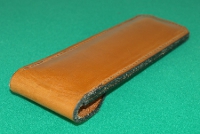 Sure, it's functional and will protect the wand but there's nothing like using quality, well finished items and the wand / case combination really speaks quality. I have a feeling this will only get better with age too.

Suitability:
It certainly ticks all the boxes for me. Gareth has also got the length right, it's a touch over 13" (and 1/2" thick) and so spins very well indeed. I find wands of a longer length do not feel as comfortable to work with, though this is a personal thing.
The wooden tips are not going to damage and cups I use it with and it is a great weight as the woods are quite dense.

Overall:
Overall I love this wand, for the sake of the review I have been trying to think of something I could suggest that could be improved but I really am stumped.
It's beautifully made and finished, durable, it spins well and is perfectly balanced and it has a great case too!
I have a few 2 piece wands, however I didn't feel I had the 2 piece wand as there was always an issue, either it had metal tips, could easily be damaged or had plastic fittings I didn't trust, however now I have the 2 piece wand I wanted and it will become a real worker. This is highly recommended.
If you are looking to place an order it is worth bearing in mind that Gareth's furniture is very sought after which does mean that the time he can devote to creating magic is prescious, but then again so are the pieces he creates. I had a short wait for this wand but I can assure you it was worth the wait.
Available from: Hidden Wren Magic

Please remember - This site is a free resource so please pass on your thanks by mentioning us when you place an order for anything.
Thanks!