Cups and Balls
Cups and Balls Magic Reviews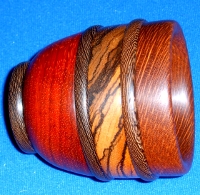 Place your mouse on the above pic for a close up view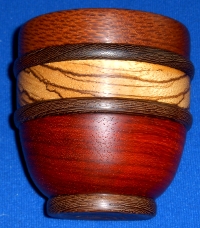 Product: 6 Piece Segmented Chop Cup
Maker: Eric Hansen
Price: Custom (Enquire)
Overview:





5/5
Review
Price:
Eric's pieces are all "one off's" and this was a special order so it's wise to enquire (do it soon though, Eric gets busy.)
What's Included?:
This was a custom ordered piece so just the cup was included. When Eric makes pieces for sale you will usually get a bag, balls etc and miniature baseball bats etc depending on the cup type offered.
Delivery Time / Packaging:
2 weeks! That was amazing, I have ordered things from other local towns that have taken longer! It was packed perfectly in many layers of tissue and bubble wrap, all packed in a cardboard box.
Construction / Durability: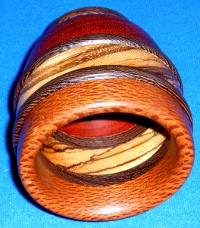 This is the most beautifully constructed chop cup I have seen. Period. This may sound gushing but I mean it. It's solid and has a wonderfully warm feel to it.
The woods it is made from are: Wenge for the base, rim, and lip, the bottom layer is Paduk (redish), mid layer is Zebra Wood, and the top layer is Lacewood.
It is perfectly aligned and smooth inside and has a wonderful weight to it too. This is not a delicate cup, it is solid and begs to be used.
Suitability: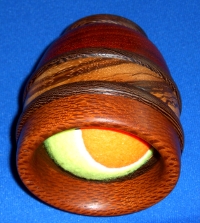 It's perfect for my needs, holds a tennis ball (my favourite size final load) and matches the wand I had custom made (also by Eric.) It works just as a chop cup should.
You have total control of the ball and you don't have to bang hard to dislodge it.
I have tried it with both The Ambitious Card Monkey Fist Balls and regular crochet ones and both work perfectly.
Overall:
Eric has a wonderful eye for detail and it is clear he is an absolute perfectionist, it shows in his work.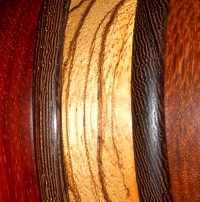 The woods are carefully chosen (and I mean carefully chosen... searching for the perfect wood by boat, snow mobile and on foot in snow shoes... you really have no idea!) and work together so well and it's not just a pretty piece, it works and functions perfectly.
So, overall a well deserved 5 out of 5. I think I am going to have to change my rating system to points out of 10, 5 isn't enough...
Available from: Eric Hansen
Please remember - This site is a free resource so please pass on your thanks by mentioning us when you place an order for anything.
Thanks!