Cups and Balls
Cups and Balls Magic Reviews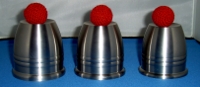 Place your mouse on the above picture for a close up view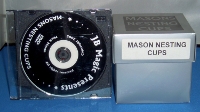 Product: Mason Dokkum Nesting Cups
Maker: Auke Von Dokkum
Price: $710
Overview: 9.25 / 10
At a Glance
| | | | | | | | | | | |
| --- | --- | --- | --- | --- | --- | --- | --- | --- | --- | --- |
| | 1 | 2 | 3 | 4 | 5 | 6 | 7 | 8 | 9 | 10 |
| Price | | | | | | | | | | |
| Delivery | | | | | | | | | | |
| Construction | | | | | | | | | | |
| Suitability | | | | | | | | | | |
Review
Price:
At $710 for a set of cups you would be right to think that these are expensive, they are. Indeed a set of Sherwood Engraved Copper Smooths would only set you back $650, so what makesthese so special?
Well, these are a very unique set of cups so perhaps we should delve into how these actually came to be...
Some time ago, Mark Mason was performing at the desert seminar in Las Vegas when a chance meeting with a cup manufacturer from Holland named Auke Van Dokkum started the germ of an idea.
Mark had a raw idea for a unique set of cups that he shared with Auke and he took the idea back to Holland and, having worked out all the finer details, actually manufactured a set of the cups Mark asked for!
Each of the cups have been cnc turned from a solid block of stainless steel rather than spun. The cups decrease in size by 2mm so that each cup fits and locks inside each other yet reverse stack so you can do regular moves with them. Think of them as the cups world's equivilent of the Fred Lowe Coin Cylinder!
One thing to be taken into consideration in the cost is the fact that these are spun from solid blocks of stainless steel and there is a lot of waste. Of course, the next is the absolute precision these must be made with in order for them to work correctly.
If you imagine the kind of precision needed to make a quality expanded half and then upscale it to a set of 3 cups, you should get the idea.
What's Included?:
The set comes in a cardboard box with a dvd, wire wool pad and a set of balls.
Delivery Time / Packaging:
These were part of a trade so I did not buy them direct from a dealer, however they were packed in a substantial box surrounded with packing beans and arrived in perfect condition from the USA in only 6 days signed for and tracked.
Construction / Durability:
The construction of these cups is a fine balance between making the locking vanish feature work, making them look like regular cups and allowing for very fine tollerances. Auke has done a sterling job indeed!
The cups lock as they should and can be handled freely without any fear of them parting at all while nested. They are also easy to seperate when needed (though not mid-routine but in private.)
While they are very durable cups and certainly strong (being stainless steel) they are a little more fragile than most cups because their very design precipitates that they are thinner walled than a lot of cups and while you may not worry too much if you dinged the edges of regular set, it would stop these functioning as needed.
I am of the opinion that if you show reasonable care and respect to these cups they will last many years to come.
Suitability:
These are certainly very suitable for their purpose and, as far as I know the only cups that allow 2 cups to vanish and lock. Auke's work is splendid and having seen these I would now like to get a regular set of his cups.
The DVD that came with the cups is adequate in that it shows you how to operate and care for the cups. I have read on internet forums that the DVD contains a routine, it doesn't.
I believe that the package would benefit from a more comprehensive DVD. Perhaps one with a routine included, more importantly though some information behind the psychology and blocking of using the cups sucessfully.
I say this because some of the info and ideas for using them on the DVD are contradictory and would cancel out the impact of the cup vanish and the method of making the first cup vanish is particularly weak.
I have spent a lot of time with these cups and put many middnight hours into the blocking, routining and psychology behind them, the effect and how to maximise the impact while screening the method.
I am very happy with the result and it plays extremely well, however not everyone who buys these wonderful cups will (be able to?) do the same and these cups deserve it. For this reason I have taken 1 point off the score for suitability.
Overall:
Overall these cups could at first be seen by some as "gimmicky" and expensive, however if you give them the time and respect they deserve and work with them you will have something unique and very special.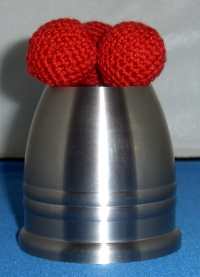 Try and find a video online of someone performing with them and you will probably draw a blank, it'sa shame because believe me, when handled correctly the cup vanish astounds people.
Auke's work is flawless and they function exactly as you would want them to, when you need them to and they are deceptive enough to pull off the illusion given the correct handling.
I wouldn't recommend these to a beginner, however for someone who's used to handling cups and is willing to put in a little time in routining I would highly reccommend them.
Available from: Von Dokkum
Please remember - This site is a free resource so please pass on your thanks by mentioning us when you place an order for anything.
Thanks!