Cups and Balls
Cups and Balls Magic Reviews

Product: The Invisible Hand
Maker: Vernet
Price: Varies Depending On Package Bought. From $58 - to $225 in USA and £38 - £200 UK
Overview: 9.6 / 10
At a Glance
| | | | | | | | | | | |
| --- | --- | --- | --- | --- | --- | --- | --- | --- | --- | --- |
| | 1 | 2 | 3 | 4 | 5 | 6 | 7 | 8 | 9 | 10 |
| Price | | | | | | | | | | |
| Construction | | | | | | | | | | |
| Suitability | | | | | | | | | | |
Review
Price:
The Invisible Hand is available in many configurations and the price is very dependant on what package you buy. You can buy just the device itself for around $58 or £38 or the device and the attachments, the device and the DVD's, a package of all 3 or the additional attachments (Kit of Accessories 2, Special Kit) or, of course a package deal of all 4.
The price for the individual items is very good indeed and the package deals are excellent. Because the Invisible Hand is a utility device that you can do so much with, this needs to be taken into consideration.
This is not a "one trick pony" but a truly versitile secret gimmick that will always be ready to silently (and powerfully) aid an abet you in all of your performances.
I have spent more on a set of cups than the price of the whole package reviewed here yet the Invisible Hand is so much more and in terms of how it will improve my magic and what I can do with it, it's an absolute bargain.
What's Included?:
As mentioned above, this is very much dependant on what package you choose to buy so I will cover the full set up so that the reader can make an educated decision as to which package is right for them.
The Device

The most basic package would be the device itself. It is well packaged and with simple and easy to follow instructions to set it up, it's well made, durable and is based on the Jack Miller hold out.
Those of you who own (and use) a Jack Miller type hold out will already know how to utilise this device, however there are a couple of clever additions that Michel has made to this that (at least in my opinion) really make it sing.
For those in the know, Michels Invisible Hand can be set up and the length adjusted a few inches in situ to fine tune it. In adition to this, Michels device and set up actually allows you to remove your jacket at any time with nothing to see!
The Kit Of Attachments & Accessories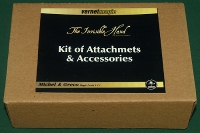 The Kit Of Attachments & Accessories by Michel and Greco takes the standard Invisible Hand and enables you to expand upon the effects and routines possible almost exponentially because many of the attachments included are utility items. You are limited only to your imagination.
Included in this kit are bespoke attachments such as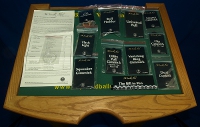 "Dual Control", "Clip Gimmick", "Squeeker Gimmick", "Flashlight Gimmick", "Magnet Gimmick", "Ball Holder", "Bill In Pen", "Utility Pull", "Vanishing Ring Gimmick" & "Dye Tube Gimmick"
The amount of effects, routines and bits of business that these attachments open up is as big as your imagination. If it fits in your hand and you want to make it vanish / appear, switch it, add it or exhange it, then this device and these attachments will probably do that for you!
Kit Of Accessories 2 (Special Kit)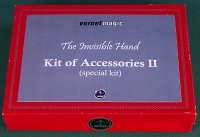 The second kit of accessories further extends the effects possible and versitility of the device by adding some well known manipulation / fire and stage magic to the mix. Included are: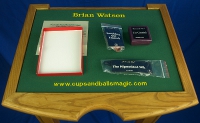 "The Fire Gimmick", "Smoking The Thumb" & "The Hypnotised Silk." Again, these are high quality, bespoke pieces all designed to fit your Invisible Hand and work right out of the box with it.
3 DVD Set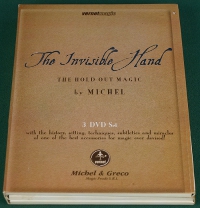 The set of 3 DVD's are very well produced indeed. Michel actually spent a whole year, working a full day, every single day to produce them so you can tell the standard is excellent.
The teaching and instruction on these DVD's really is second to none and Michel is a very good teacher.
DVD 1 takes you through the history of the hold out and it's evolution up to the Invisible Hand.
This is followed by a very in depth description of the device itself, how to correctly set up the device, the correct movements and useage and the first effect "Silk Story", a beautifully clean repeat silk vanish (think 6 card repeat presentation with a silk vanish.)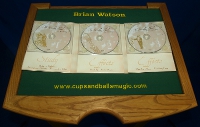 DVD 2 Features stand up and parlour magic which can be performed with the device. Featured are the following effects and routines; "Silk Story", "The Invisible Ball Routine", "The Hypnotised Silk", "The Gazing Watch", "The Amazing Vanish Of a Silk and Coin", "The Newspaper Test", "The Rising Card", "The Magic Bulb", "The Bill In Pen", "Free Choice", "The Bill Neff Rope Routine" & "Spoon Bending."
The nuances and handling also shown in the explanations are worth their weight in gold. For instance Michel shows you how to transition from one effect to another and how to set up and attach the correct gimmick for each effect in full view!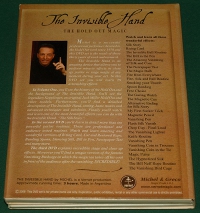 DVD 3 Features; "Fire From Everywhere", "Fire - Silk & Ball Routine", "Smoking Your Thumb", "The Magnetic Cue", "The Vanishing Coin", "Chop Cup - Final Load", "My First Sucker trick", "Vanishing Pen - Bob Ostin", "Vanishing Pen", "Vanishing Cigarette", "Magnetic Pencil", "Magic Purse", "Knife Routine", "Vanishing Lighter", "Flash Silk Vanish", "Vanishing Coing In Trousers" & "The Vanishing Birdcage."
The Vanishing Birdcage is worth the price of admission alone. Michel gives you a history of the effect, different performance settings and explanations and I have to mention the fact that Michel removes his jacket and empties his pockets afterwards and there's nothing to see. For those of us who do not have the set up, experience and knowledge of David Alexander, this is a real world practical solution that looks fantastic!
Construction / Durability:
The device itself is pretty rugged and should stand up to a lot of use and the attachments are all very well made indeed and I have no doubt that they wont need replacing. They are all created specifically for the Invisible Hand and therefore are very durable and rugged.
As with all Vernet items, the gimmicks that deal with fire etc are all correctly (and safely) constructed and so there should be no issues there either.
One thing I would like to see is either an adapted fire gimmick to make it operable in either hand or a fire gimmick specifically for the left hand. The one provided is only really suitable for right hand operation, all that would be needed is a fint holder on the other side so the user could choose. It will have to loose a point for construction because of this.
Of course everything else works perfectly regardless of me being a "lefty" or not!
Suitability:
I guess there are 2 things to cover here, suitability in general and suitability for cups and balls / chop cup etc.
The first thing I would like to discuss is general suitability. For those who (like myself) were first introduced to the hold out via the Jack Miller model and the wonderful little book "Holdout Miracles" by Ed Mishell then you WILL use this and the additional features that Michel has brought to the table certainly do add to it rather than (as many so called "improved" items) take away.
I was lucky enough to catch Michel's lecture (and actual close up / stand up performance using only this device for the whole set) and can attest to the fact that not only is this entirely suitable for any and all situations but really is a genuine improvement on it's predecessor, not only because it's easier to set, work and adjust but because you can remove your coat if you need to.
I might add that removing the coat isn't just a "flourish" to prove there is nothnig there but a practicaility in many situations.
In a world where people are changing things simply to put their own name on something in order to sell it, I am happy to say that Michel's 35 years of working with, collecting and improving holdout's stand proud and I have seen the proof in his performance.
As far as suitability for cups and balls goes the complete set up is very suitable for general magic and, as most of you reading this also perform general magic, not just cups and balls I would highly recommed you invest in this piece of kit anyway.
However, in relation to cups and balls and chop cups there are a couple of great ideas that I am already using.
One is an adaptation of Michel's "The Amazing Vanish Of a Silk and Coin", I am not sure if I should tip it because it's too good to give away, however those of you that are thinkers will probably already be on the right lines when I suggest that you think of what Ron Wilson brought to the table in terms of chop cup routines...
No need to pay me now, just send me a big fat cheque when you find your future wife after performing it!
The ball holder supplied fits a golf ball with ease and can be adjusted a little so holding out and loading a pocket sized chop cup is no problem at all. Michel actually tips this on one of the videos.
You may want to adapt the supplied ball holder or make a smaller one of your own (very easily done) if you want to use this with 1" balls.
The magnetic attachment is obvioulsy suitable for chopped items and obviously this is limited only to your imagination.
Overall:
Overall this is something I am very excited about. I was already familiar with the Jack Miller model and couldn't see what all the fuss was about over this initially, however the improvements Michel has made allow a smoother set up, working and changing of attachments that really do make a big difference.
I have to say that it helped actually seeing Michel use the device both in a full set of close up and stand up and also in his lecture on the device.
Michel is a very charasmatic performer and an excellent lecturer and because of this, his magic is very dissarming! It was wonderful to see the magician Michel had up on stage examine the lightbulb tip looking for the "switch" as Michel performed his version of a classic (Beamshot / Scotty York Lightbulb etc) with an ordinary bulb!
Michel's explanation on the DVD's of transitioning from effect to effect and how to change the attachment needed really add value and make it a real worker.
As I have already mentioned, I was familiar with the Jack Miller model and probably didn't give it the attention it deserved (though I have used it), however Michel's excellent explanation and instruction on the DVD set and the many attachments really have inspired me and given my use of the device a new lease of life.
I've already used it for an addition to a cup routine that I think is worth the price of the set up and fresh ideas are comning all the time. For me, it's a keeper and highly recommended!
Available from: Vernet Magic (Click on; For Magicians > Where To Buy > Magic Shops to find your nearest stockist)

Please remember - This site is a free resource so please pass on your thanks by mentioning us when you place an order for anything.
Thanks!