Cups and Balls
Cups and Balls Magic Reviews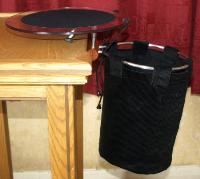 Click on the picture above for a close up view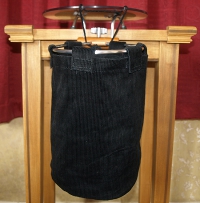 Product: Hopper
Maker: Colin Rose (Five of Hearts Magic)
Price: £75
Overview: 9.75 / 10
At a Glance
| | | | | | | | | | | |
| --- | --- | --- | --- | --- | --- | --- | --- | --- | --- | --- |
| | 1 | 2 | 3 | 4 | 5 | 6 | 7 | 8 | 9 | 10 |
| Price | | | | | | | | | | |
| Delivery | | | | | | | | | | |
| Construction | | | | | | | | | | |
| Suitability | | | | | | | | | | |
Review
Price:
These are totally bespoke, beautifully finished and quite complex to make. My guess is that at £75 Colin is surely not charging by the hour for his time, rather just a reasonable price for a finished product. Price-wise this is going to pay for itself over and over again when used.
What's Included?:
The Hopper itself and an instruction sheet.
Delivery Time / Packaging:
This was bought at the Blackpool convention. Colin and Sharron were out of stock (they tend to sell out a lot at conventions!) and so it was made upon their return and posted to me.
It arrived well packaged and in perfect condition in just over a week. This was actually very quick because I know that Colin took a LOT of orders which had to be made after the convention.
Construction / Durability:

The Five of Hearts Hopper is very elegant and well presented, however don't mistake that for fragility! It's designed to last and is very solid. It also has a very good weight to strength ratio because the metal hoop and feet are aluminium.
The bag is fashioned from very strong cord and because of the items unique design will only clamp the unit tighter to a table if a heavy object is placed inside.
Suitability:
Here is where I make a confession about this type of product... I have always hated any kind of "clamp on table" or "adjustable platform" with a passion and prefered to work from my pockets.
The reason for this is that they either had ugly, large metal clamps with screws or wing nuts that not only took forever to attach but also had potential to mark the surface it was clamping to or they looked cheap and tacky with gold fringes or ugly attachments.
Another drawback was that you were often limited to a particular maximum table thickness when attaching the units I had seen.
I have been very vocal about my dislike of such things in the past, however I sincerely have to humbly eat my words on this occasion.
Many of the most ingenious creations rely on their simplicity and elegance and the Hopper is no exception. It's beautifully elegant and wonderfully simple. There are no wing nuts, ugly clamps, threaded bars or rubber sucker.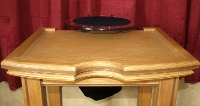 All you need to do is tilt the unit and lower it onto the table top. It's footprint is tiny because only 2 very small rubber feet contact the table top (I do think it could be improved ever so slightly if these feet swivelled and were not fixed, though this is being picky.)
You then simply drop down the perspex working surface (which has a 9" diameter felt surface in the centre to work on) which also leaves access to the large bag at the back.
The bag can either be used for carrying props in to the table so you don't approach with huge bulging pockets and / or for ditching items in during or after the performance.
I would prefer the bag to have a couple of pockets on the inside as it is quite deep and can involve a little fishing if you have a few items inside.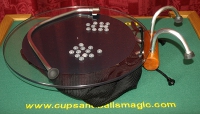 The perspex top of the Hopper and bag are available in red or black. I chose black as it will contrast best with red backed cards, silver coins and most chop cups and balls.
If you are working in a restaurant then this raised area is a huge bonus because you immediately claim that surface as your stage yet you don't have to clear an area, move glasses and plates etc.
Not only does it allow you your own performing area, it also keeps your cards, chop cups, sponge balls etc clean and beer / wine free!
I have tried this on table tops, counters, my own magic table (with a 2" skirt under the table top) to a close up table with a drawer directly underneath and it worked perfectly with them all.
The Hopper works, it's as simple as that!
Overall:
When I spoke to Sharron at Blackpool about the Hopper I had a fixed idea of what this kind of device was and I already knew that I hated such a thing. Sharron showed me the Hopper and I bought it on the spot. You really have to see how it sits on any table in a single second to appreciate it.
In my opinion magicians do not spend enough on their working surfaces and areas. The stories I have heard about magicians who own thousands of pounds worth of effects (that they never use!) turning up at gigs and borrowing tables and such.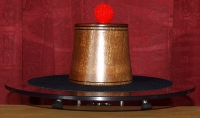 Frankly, in my opinion if you own thousands of pounds worth of books, gimmicks and effects and you are charging money for your performance and turn up and borrow a table, then you should be ashamed of yourself.
When it comes to being prepared then in my opinion, this bit of kit should be in every magicians case (it packs flat by the way) just in case you are asked to stay on and perform some close up stuff after a carbaret performance etc.
Available from: Five of Hearts Magic

Please remember - This site is a free resource so please pass on your thanks by mentioning us when you place an order for anything.
Thanks!