Cups and Balls
Cups and Balls Magic Reviews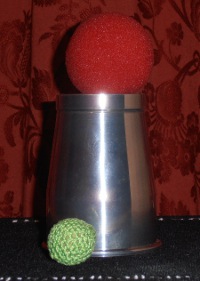 Product: High Ball Chop Cup
Maker: International Magic
Source: Via eBay
At a Glance
| | | | | | | | | | | |
| --- | --- | --- | --- | --- | --- | --- | --- | --- | --- | --- |
| | 1 | 2 | 3 | 4 | 5 | 6 | 7 | 8 | 9 | 10 |
| Delivery | | | | | | | | | | |
| Construction | | | | | | | | | | |
| Suitability | | | | | | | | | | |
Review
What's Included?: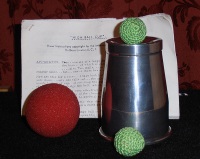 This little gem came with the original instructions / routine, the 2 balls (1 spare in case you loose one of course) and a sponge ball final load. While I am not a fan of sponge final loads at all, it is nice to have the complete set as it was originally sold.
Delivery Time / Packaging:
This was an eBay purchase and arrived within 3 days of payment. Nothing more to add really other than it was pretty lucky that we have a kind and gentle natured postie! It arrived in perfect condition despite it's only protection being a jiffy envelope. So, as a side note, if you send someone a set of cups or a chop cup, please make sure you pack well.
Construction / Durability: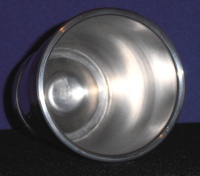 I don't believe that this cup has actually seen any use at all. It looks to be totally unused, however it's really pretty solidly constructed.
It immediately reminded me of the Ken Brooke chop cup though from close examination the construction method appears to be different.
I would have no hesitations in "gigging" this cup and I believe it would be a great little worker and very durable.
Suitability: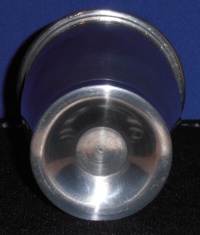 Though it is constructed from aluminium, this cup weighs in at the 4oz mark so it feels a great more solid and tactile than a lot of aluminium cups.
It will take a baseball for lovers of larger final loads and the "action" is very nice indeed, even without adjustable gaffs.
Overall:
I'm very happy with this great little cup, it's of a decent enough weight, handles nicely and take a good size final load. For a worker it's going to be a reliable cup and for a collector it's a nice addition to have.
Comparison: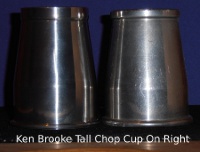 As soon as I saw this cup it reminded me very much of the Ken Brooke Tall Chop Cup. Indeed, in the comparison picture on the left you can see the similarities.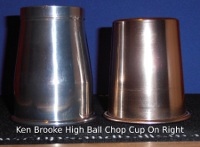 For additional comparison the pic on the right shows the Ken Brook High Ball Chop cup compared to the International High Ball Chop Cup.
Measurements (mm)

Inner Mouth Diameter

75.3 mm

Outer Mouth Bead Diameter

85.1 mm

Inner Depth (to centre of dip in saddle)

93 mm

Height

109 mm

Saddle Width

63 mm

Weight (oz)

Cup Weight
4 oz
Available from:

Please remember - This site is a free resource so please pass on your thanks by mentioning us when you place an order for anything.
Thanks!