Cups and Balls
Cups and Balls Magic Reviews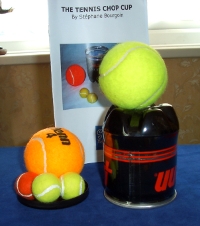 Place your mouse on the above picture for a close up view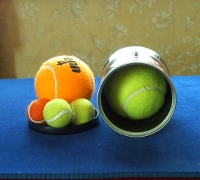 Product: Tennis Chop Cup
Maker: Stephane Bourgoin
Price: £20 (via a magic forum, howwever new price is $39.95.)
Overview:




4/5
Review
Price:
Ignoring the fact that I bought this second user the price for this is very good. Stephane charges $22 for a set of the 4 (unchopped) mini tennis balls alone and 3 are included in this set (1 chopped.)
What's Included?:
Tennis ball chop cup (made from a Penn tennis ball "tube"), 3 mini tennis balls (1 chopped), 2 regulation tennis balls for final loads and routine.

Delivery Time / Packaging:
This was shipped second user from a domestic website, it came in 3 days and was well packed. I have never dealt with Stephane at all so I can't comment.
Construction / Durability:
The chop cup itself is a lot more fragile than a regular cup as it is constructed from a genuine tube for packaging tennis balls. Being thin walled plastic you need to make sure you take care.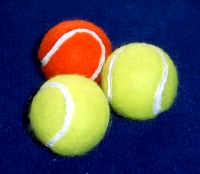 Given that you bear this in mind then it should be okay with regular performances. I could imagine that there may be a need to touch up a little black paint now and again as there were a couple of spots on this where it had rubbed away.
A good plus point of this cup is the fact that as it was originally desinged as a container, it has a lid. The mini balls and one final load all fit inside with the lid on so all you have to find room for is the second final load.
Suitability:
As far as suitability goes this is great, it's a tennis ball holder and you perform a routine with miniature tennis balls ending with a congruent final load of 2 large tennis balls.
In that respect it suits its purpose perfectly and for those who need a reason to perform a chop cup routine this fits the bill.
If you want a cup to knock about on the street or throw in your case without worrying about then it's not really suitable. For general close up and performing this is a great little item.
Overall:
There are a couple of issues that "niggle" me, the first being the shape of the bottom of the cup in relation to the placement of the m****t.
Because the base is the same in construction as a fizzy drinks bottle the ball tends to rest in one of the 5 star shaped "troughs" rather than hitting the raised sweet spot. This is covered in the instructions and there's a bit of a knack to working it which you'll soon get but I feel is worth mentioning.
The second are the balls. They are beautifully made and look fantasic, however the white lines on them are hard and make the balls very talkative. If you're performing this on a padded surface you should be okay but the balls still talk a lot in the cup.
I like this cup, both in terms of its congruency and logical routine and familiarity of objects and I believe it to be a very commercial effect that laymen will enjoy.
Of course there's also great scope for creating your own routine and not just working the one supplied but we should all be doing that anyway, right?
Please remember - This site is a free resource so please pass on your thanks by mentioning us when you place an order for anything.
Thanks!