Cups and Balls
Cups and Balls Magic Reviews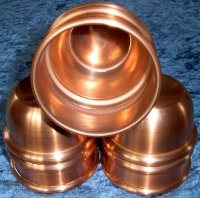 Product: Mendoza Satin Copper Combo's
Maker: RNT2
Price: Current RNT2 Price $299.99
Overview:





5/5
Review
Price:
This combo set was bought when RNT2 were winding down and closing and the unpolished sets were offered at a lower price due to the time involved polishing.
The great news is that RNT2 is now owned by Don Buckley and very much still in business so these are still available.
What's Included?:
There were no balls included with this set, simply the cups and a leatherette drawstring bag. I have ordered a set of balls in Phoenix Sunfire yellow from RNT2, when they arrive I will review them both separately and in conjunction with this combo set.
Delivery Time / Packaging:
I sent payment for these on 3rd Feb 2009 and received them Feb 14th, however they hit British shores on Feb 12th and the shipping company took 2 days to write to me as I had customs fees to pay.
The shipping label shows they left the states on Feb 6th so that's fantastic service as I know how busy RNT2 are at the moment.
Construction / Durability:
I really like heavy cups, it's just a personal preference... As far as the weight of these cups go... I love them!
Each cup weighs in at just over 7.5 oz's and they feel particularly well balanced too. For those that like to do the rollback they handle nicely.
The walls are nice and thick and they feel solid and the gaff is undetectable, I imagine these will last a lifetime. Epiphany did a very fine job spinning these beauties...
The satin finish on these was initially second choice and I bought them because of their price, however it has really grown on me and it has the added benefit of not reflecting loads and palmed balls etc.
Suitability:
Firstly, these were designed for the John Mendoza's routine so while I should really direct most of this comment to their suitability in this area, I believe the man who originally commissioned the cups knows a lot more than I do!
John was quoted on the RNT2 site as saying:
"I have spent the last four years looking for the perfect set of Combo cups for my Mendoza Cups & Balls routine. I have tried virtually every cup maker you can imagine, from the low end cheap cups to the very highest end silver cups and every maker in between, including some very nice attempts from RNT II. I have had no success. To my absolute delight, RNTII has now succeeded in making the perfect cups. Their feel and weight is perfect. All three cups have the same feel and weight. The release is as close to perfect as one can get and the size holds a big load without looking like a big cup. I honestly cannot recommend any cup more highly for the Mendoza Cups & Balls Routine." John Mendoza

As far as general suitability goes, how many combo cup manufacturers would produce cups that most owners cannot tell the gaff on? The shot to the side of this paragraph shows all 3 cups, can you spot the gaff? If anyone has ever owned a cheaper combo set that was held in by bubble gum then they will appreciate the work RNT2 has gone to here.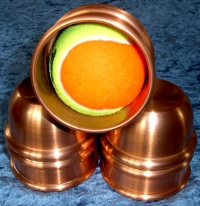 These cups easily accept a regulation tennis ball and also take 3 1" balls on the saddle without floating. As and when the Phoenix Sunfire working balls arrive I will update this review and include comments on the chop feature, suffice to say that the gaff is very strong and the working balls feature an adjustable ball...
Overall: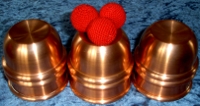 In summing up I am knocked sideways by this set of cups. Because they were designed from the ground up to be a combo set, the combo feature was not an after market gaff glued in. Because of this it does not affect the saddle, attic space or load capacity.
This truly is a beautifully made set of heavy weight combo cups with an invisible gaff. Use them for a combo routine, a straight cups and balls routine or a single chop cup routine, I love 'em!
Available from: RNT2
Please remember - This site is a free resource so please pass on your thanks by mentioning us when you place an order for anything.
Thanks!