Cups and Balls
Cups and Balls Magic Reviews

Click on the picture above for a close up view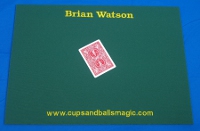 Product: Custom Close Up Mat
Maker: Pattrick Przysiecki
Price: Varies
Overview: 10 / 10
At a Glance
| | | | | | | | | | | |
| --- | --- | --- | --- | --- | --- | --- | --- | --- | --- | --- |
| | 1 | 2 | 3 | 4 | 5 | 6 | 7 | 8 | 9 | 10 |
| Price | | | | | | | | | | |
| Delivery | | | | | | | | | | |
| Construction | | | | | | | | | | |
| Suitability | | | | | | | | | | |
| Overall | | | | | | | | | | |
Review
Price:
In a nutshell these mats represent excellent value for money indeed. The price will vary on different factors because Pattrick offers both standard and custom lines.
There is no charge by Pattrick for custom cutting and sizing etc, you are only charged based on how much material is used.
Looking deeper into this nobody would blame Pattrick if he did charge extra because it isn't as simple as cutting a piece off and shipping it. Pattrick actually makes the mats by bonding the working surface to the backing etc.
This is fantastic because if you choose to have custom embroidery it means that the embrodery doesn't show through on the back of the mat and it sits perfectly flat.
The 2 mats being reviewed cost $23.50 and $33.50 (one is a regular and one is plush) and Pattrick charges $25 per embroidery (top and bottom.)
What's Included?:
The mat, either a standard model from Pattricks website or a bespoke mat to your own specifications in a wide variety of colours, shapes and sizes and / or embroidered.
Delivery Time / Packaging:
I expected a long wait for these mats for 2 reasons. The first being Royal Mail have still not recovered from the slow service they were offering when the snow (after only 2010 years of snow "happening" on an annual basis!) caught them by surprise and the second being that these were bespoke items.
It came as a very pleasant surprise when these arrived on the 18th having being sent on the 4th. That's 2 weeks from the USA to the UK.
Pattrick tells me that turnarond times for custom work is around 10 days and the timings verify this.
They were packaged very well indeed and arrived in perfect condition. Pattrick's customer service is also second to none.
Pattrick double checked the size, colour, embroidery details and fonts before starting to process the order.
I was contacted when the mats were sent for embroidery, when the mats were being bonded and cured and when they were sent.
It's very nice to be kept in the loop and makes the service feel that much more personal.
Construction / Durability: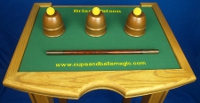 There are 2 differing types of mat here. There is the regular and the plush*. In the photographs the regular is the casino green and the plush is in black material.
Both are extremely well made, very durable and have a heavy, textured non slip rubber backing. I have owned many mats over the years from "el cheapo" to expensive ones in leather folio's and I have to hold up my hands and say that Pattrick's easily hold up against any I have used.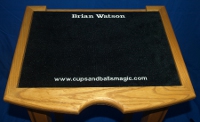 The plush model is a little thicker than the regular and Pattrick tells me that; "It can also withstand repeated performances as used in card stab." I'll take Pattrick's word for it as I wont be stabbing my new table in the near future!
Just as with any close up mat you do have to take care of it by ensuring that you roll it with the fabric on the outside, this will make sure that it doesn't crease or seperate from the backing.
I have no doubt whatsoever that Pattrick's mats will last me for years given the correct care.
Suitability:
These mats were purchased for my table and therefore were cut to the exact size to fit the top. I also specified to keep the corners square as Pattrick's mats usually come finished with nicely rounded corners.
These mats both have a textured heavy rubber backing which stays put, obviously a very important feature. The "give" in the mats makes them perfect for card, coin and cup routines alike.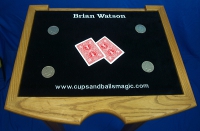 Yes, I do work with objects other than cups and here's the photo to prove it! I have to say that it's always a worry when you request something to be made bespoke because you never know how the manufacturer will translate your instructions. It was a huge relief when I opened the package, Pattrick nailed it perfectly!
Overall:
Overall I love Pattrick's customer service, attention to detail and craftsmanship. Why? Because it not only means I get a great product, it also makes me feel great when I perform and the embroidery on Pattrick's mats set them apart from all the others on the market.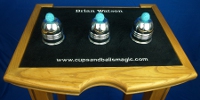 Not only is it a great way to get people to remember you when you are performing, it also makes you feel special. I have spent a small fortune on my cups, table and wand, it only makes sense that I should use the best mat to perform on too and thanks to Pattrick, now I can!
*The plush mats are a new item and do not appear on Pattrick's website yet. You will need to email Pattrick about this if you want to order one.
Available from: Pattrick's Magical Surfaces
Please remember - This site is a free resource so please pass on your thanks by mentioning us when you place an order for anything.
Thanks!