Cups and Balls
Cups and Balls Magic Reviews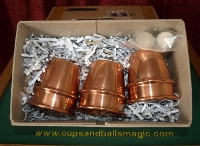 Product: Ken Brooke / Harry Stanley Cups
Maker: Ken Brooke / Harry Stanley (Spun by Burtini)
Price: Bought at auction
Review
What's Included?: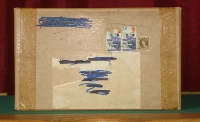 These came with what I believe to be the original box (used for postage), balls and the cups. I only wish the addressee's name and address hadn't been crossed out.
Delivery Time / Packaging:
N/A - Bought at auction
Construction / Durability: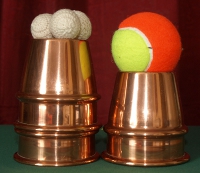 The build quality on this set is in line with the other Ken Brooke set reviewed here and my guess is that they were also probably spun by Burtini. Burtini had access to materials and machinery that others did not at that time and his work still stands up beautifully today.
Burtini's real name was Bill Powell and he passed away in 1969, something I only recently found out (thanks to Bill Palmer, my cup hero!)
These cups are plated, though I am not sure why because they appear to be copper underneath and weighing in at a shade less than 1lb I don't doubt they are.
These are solid, working cups and a pleasure to use.
Suitability:
These have almost a traditional shape, being a fair bit taller than the other set of Ken Brooke cups I reviewed.

The taller and straight sided (as opossed to rounded) top half means they are a little more hard work if you are a lover of things like the galloping post / fako move etc, though of course they can still be done.
They swallow a tennis ball but wont take a baseball and they will take 3 1" balls on the saddle with ease, however they hang a touch with 1 1/8" balls (including jacket.)
Overall:
I really like these cups, they are half way between a trad and a regular type cup, not dissimilar to the RNT2 Phoenix 2's.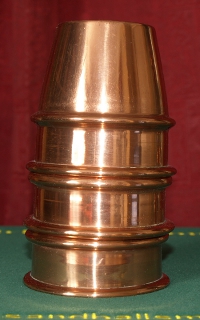 From my research I am guessing that these were spun (or at least sold) after the 19 September 1967. I know that sounds almost too accurate, however the stamps which were used to post them on the original box are from a set issued on that date to commemorate, "four aspects of British discovery which have changed the course of modern living."
If my memory serves me correctly Ken Brooke left Harry Stanley's company in 1966 to go back to dealing for himself.
Because of this I am unsure if these cups were sold by Harry Stanley or Ken Brooke as there may only be a few months difference. If anyone can shed any light on this or indeed the cups then I would love to hear from you!
So, all in all a very nice set of cups with a good pedigree too!
Available from: N/A

Please remember - This site is a free resource so please pass on your thanks by mentioning us when you place an order for anything.
Thanks!
Measurements (mm)

Inner Mouth Diameter

74mm

Outer Mouth Bead Diameter

85.4mm

Inner Depth (to centre of dip in saddle)

74mm

Height

84mm

Saddle Width

56mm

Stack Height

150mm

Weight (oz)

Per Cup
5oz
Set
15oz