Cups and Balls
Cups and Balls Magic Reviews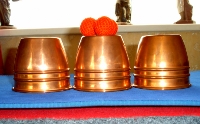 Place your mouse on the above picture for a close up view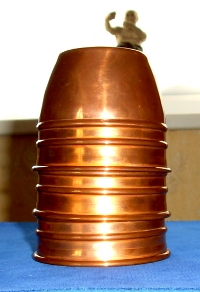 Product: Copper Dumpy Cups
Maker: Supreme
Price: Unknown
Overview:




3.5/5
Review
Price:
These were bought at a convention from Mike Shepherd of Castle Magic Services and, as such I can't remember the price. I do recall spending far more than I should have that day though... That's magic conventions!
What's Included?:
The cups, balls and bag.
Delivery Time / Packaging:
These were bought in person, however dealing with Mike is always a pleasure so I recommend Castle Magic Services highly.
Construction / Durability: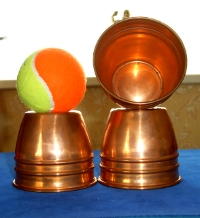 These are nicely made cups, if a little thin. The weight and thickness is reminicent of the Harry Stanley cups, however these are quite a bit larger at a touch under 3" high, a 2" saddle and a 3 1/4" inner mouth diameter.
Each cup weighs in at 2.8 oz and easily swallows a tennis ball yet a baseball protrudes from the bottom (although the mouth easily takes one.)
One slight issue I have with these cups is the fact that the mouth beads on the cups is slightly larger than the second bead. When the cupsare stacked it gives them a very sloppy feeling and on occasions they can hang and lock slightly.
Suitability:
I would be fine using these cups for say, the Vernon routine but not my own. The reason being that the mouth bead passing slightly over the top bead only allows them to take one ball between the cups when stacked or nested.
The original balls these came with are 7/8" rubber ball core and 1 ball isthe limit and even then you can feel the saddle of the cup actually resting on the ball not the bead.
This is fine for most routines that don't need 3 balls between the cups however I prefer to work with 1" balls.
Overall:
These are nice cups and I love the way they look although I do feel they are let down by the mouth / top bead issue. I believe if they were made of a heavier guage then the beads would perhaps be made larger and solve this problem (along with raising the two shoulder beads slightly to increase attic space a touch.) Overall I have to give these 3.5 out of 5.
Comparison:
For those who are interested there is now a comparison of these cups and the Harry Stanley cups here.