Cups and Balls
Cups and Balls Magic Reviews


Product:

Fab Fruit
Maker: Michael Ammar
Price: Single $15 or 4 for $50
* (Just added a common cup comparison for Fab Fruit here)
Overview:





5/5
Review
Price
Considering the trouble you can go to when looking for fresh fruit and vegetables for your cups and balls loads Fab Fruit represent good value for money because you will never have to replace them and you will always have the perfect loads.
While many will opt for balls from pet shops, tennis balls etc it is widely known that you get a bigger reaction with fruit because it is so unusual.
I used to take a set of cups out with me on a hunt for perfect fruit, now I throw them in my case and forget them. I also know of performers who have thrown fresh fruit and veg in their case and forgotten it... nice!
What's Included?
You simply get whatever fruit you order. Currently Fab Fruit is available in Potato, Lemon*, Tomato, Lime and Turnip.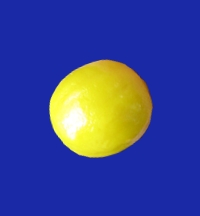 Delivery Time / Packaging
I bought a Mercury Wand and 5 Fab Fruit, delivered from the USA, expertly packaged in a sturdy box it arrived in 7 days.
I was notified via email when my order was placed and again when it shipped. It's a nice touch which means you are kept informed along the way and, as a result I have complete faith that if I order anything from Michael's site Bonnie will look after me.
Construction / Durability
These pieces are made from a very dense, durable silicone and can be wiped clean very easily with a damp cloth. I expect mine to last along time.
Suitability
The Fab Fruit appear to have been designed and made from the ground up rather than "sourced" at a manufacturer of a trade show display or shop fitters.
They load into a cup silently and are of a size that is a good compromise. They are significantly bigger than working balls but not so big that many people would have a problem concealing them and they fit every cup I have.
The smallest cups I have had them in are the original Jess Squatties.
Overall
Overall the Michael Ammar Fab Fruit, at least in my opinion, are the finest fake fruit I have handled and used and most certainly the easiest to handle and the quietest to load.
* (Just added a common cup comparison for Fab Fruit here)
Available from: Michael Ammar
Please remember - This site is a free resource so please pass on your thanks by mentioning us when you place an order for anything.
* The lemons in the photograph in the header of this website are not real, they are Fab Fruit!