Cups and Balls
Cups and Balls Magic Reviews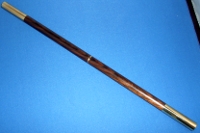 Place your mouse on the above picture for a close up view
(Hold down your middle mouse scroll button to move around picture)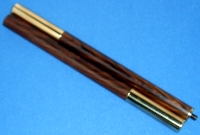 Product: Mun Ebony Convertible Wand
Maker: Michael Myatt (Moonlight Magic)
Price: $50
Overview: 10 / 10
At a Glance
| | | | | | | | | | | |
| --- | --- | --- | --- | --- | --- | --- | --- | --- | --- | --- |
| | 1 | 2 | 3 | 4 | 5 | 6 | 7 | 8 | 9 | 10 |
| Price | | | | | | | | | | |
| Delivery | | | | | | | | | | |
| Construction | | | | | | | | | | |
| Suitability | | | | | | | | | | |
Review
Price:
After giving a lot of thought as to how I am going to approach this I decided to shoot from the hip. Honestly... at $50 Michael wants shooting!
There is a lot of work goes into these and they are beautifully presented. $50 is way under priced in my opinion. You are not getting a $50 wand so don't let the price fool you.
I would have expected to have paid at least twice this price for something of this quality. Even with international shipping this is a bargain.
What's Included?:
On opening the branded box I found the following;
2 Piece Wand

Cloth Case

Polishing Cloth

3 Pages of Instructions, Care Notes and Certificate

Magnetic Tip*

Bag For Magnetic Tip
* The magnetic tip is an optional extra.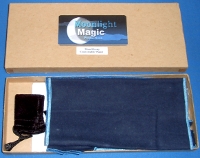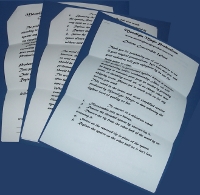 Everything was beautifully presented and the certificate of manufacture gives a quality control number. This is not just for show, Michael actually keeps a record of the brass spacer machined especially for your wand.
This brass spacer is a unique thickness relating to your wand which ensures that the grain lines up perfectly. Now that's attention to detail!
Delivery Time / Packaging:
It would be unfair of me to judge the wand on delivery time because this was shipped just as the postal strikes hit London. I am aware of one of these wands shipped to Australia that arrived in great time, also a couple that people on a forum received in good time so I know Michael sends these quickly.
As far as packaging and service goes, I received an email when my wand was shipped with a number from USPS via paypal to notify me it was on its way. Upon receipt this was very carefully packed indeed and came in pristine condition.
Opening the outer USPS card envelope I found a bubble wrapped (2 layers!) package nestling inside of 2 sheets of foam! After removing the bubble wrap I discovered the Moonlight Magic branded box held closed with 2 elastic bands.
Inside the box was all the pieces mentioned above, the wand itself was inside an envelope and was again wrapped in bubble wrap inside it's protective bag. The magnetic tip was also wrapped in bubble wrap. I would find it very hard to believe that one of these could possibly arrive damaged.
Construction / Durability:
First impressions count and the way this was packed and presented certainly impressed, however construction and durability are another thing all together. The immediate impression you get when first handling the wand really is that of quality.
I have a 2 piece wand from another manufacturer that I paid only $5 less for, however the 2 wands are in different leagues. The $45 wand is light, doesn't line up correctly (in the centre or the tips) and feels awkward in my hands. It might as well have been $45 less. In short, I have never used it. Ever!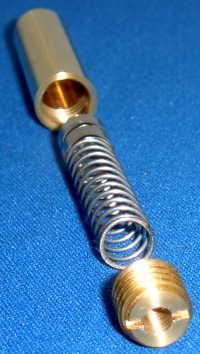 Michael's wands line up perfectly (centre and ends), even the grain lines up thanks to the unique brass spacer. Another feature is that the wand has a square mortice which means that it will never turn out of line or pull free.
The quality of finish is perfect, there is not a single mark, scratch or blemish on the wood or the brass and the lustre of the wood is beautiful.
The magnetic tips Michael offers as an extra are ingeniously constructed because they are adjustable. After removing the tip, there is a brass "grub screw" which hides 2 rare earth magnets and a spring.
This allows you to adjust the magnetic properties of the wand and the spring ensures that the magnet is always at the tip.
Speaking of tips, this wand is weighty due to the brass tips being solid. I ordered it this way because I wanted a heavy wand. Michael offers 4 options for the tips;
Light (hollow brass)

Medium (aluminium filled brass)

Heavy (solid brass)

Magnetic (adjustable with 2 rare earth magnets!)
So if you prefer a lighter wand then simply choose that option. Michael also offers wands made from many types of wood, both domestic, exotic and acrylic and of course he also takes custom orders.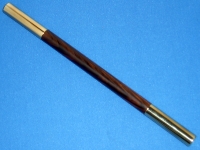 Another great feature of this wand is that it is actually two wands in one. As well as a 14" wand for general use, it also converts into a 9" wand for strolling, walk round and close up.
The 9" close up wand looks as good as it does full size and for pocket management I use the 9" wand with the magnetic tip so I can instantly locate a chopped ball in the jacket pocket!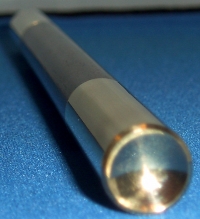 Finally, if you take a look at the wand tip, Michael makes these concaved...
Why? So that you can balance a ball on there when working cups and balls!
This is great for calling attention to a ball and / or adding emphasis to a vanish of a ball during a routine.
I have no hesitation giving this full marks for construction and durability as I have no doubt this wand will last and last!
Suitability:
I think I have probably covered this in the information above, however one thing I would like to point out is that Michael also offers wooden tips should you want to use his wands with cups.
I will certainly be ordering a set of medium, light and wooden tips for this wand so I have all available options.
Overall:
Overall, I think I have said everything that needs to be said above. This is at least a $100 wand for half the price. Michael's workmanship and attention to detail is exceptional. I like this wand so much I ordered a set of 4 Mun Ebony and brass custom coin boxes to match it!
Available from: Moonlight Magic & RNT2
Please remember - This site is a free resource so please pass on your thanks by mentioning us when you place an order for anything.