Cups and Balls
Cups and Balls Magic Reviews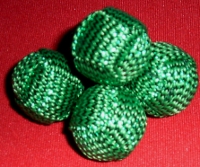 Product: 1" Regular Monkey Fist Balls
Supplier: The Ambitious Card (Frank Startsini) Made by Josh Riel
Price: $45
Overview:





5/5
Review
Price:
What do you want for $45? Personally I think it's a reasonable price (and yes I have tried to make my own in the past so I know how much of a pain it can be to get them right!)
What's Included?:
You get the set of working balls (4) plus a chopped ball. A complete set. These are also available in a set of 2 for the chop cup if that's what you need. I bought these to use with the Mendoza Combo set.
Delivery Time / Packaging:
I didn't buy these direct from Frank's website, however they were shipped from the USA and took 7 days.
What I can tell you is that I have spoken to many people who have bought directly from Frank and I have not heard a bad thing about his service. In fact a simple search of the online magic forums will reveal many glowing reports.
Word of mouth means a lot to me because anyone can make promises but when customers say good things, that's different. I wouldn't think twice about placing an order from what I had heard and read.
Construction / Durability:
These are really well made. As I have said I have tried to tie these myself in the past and it's most definitely not easy. They are perfectly even in terms of the tightness of each ball and also in relation to each other.
They are also the exact size stated. Many 1" balls are actually 1 1/8 inch meaning that the core ball is 1" and then a crochet jacket has been added.
This means that they will also work with my copper JES Squatties which other 1" balls wont (meaning that I can nest 3 between cups when stacked.)
The chopped ball appears to be magnetic and not shimmed and there is no sign of the gimmick, as it should be. The chopped ball in this set is not adjustable and is a little strong for the Mendozas but I am not working a combo routine with it anyway.
These look and feel like they should last, although I am not sure about how they can be cleaned should they dirty up through use.
Suitability: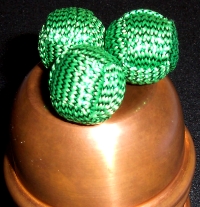 This is the regular set and is of a decent weight, they are slightly heavier than Morrisey crochet balls but not quite as heavy as the RNT2 working balls.
If you prefer heavier balls then Frank does make these in the popular mouse ball core too(certainly the ones I would use for street performances etc.)
The great thing about this style of ball is that it doesn't roll off too far if it is dropped which makes a real difference to a working performer.
Another feature of these balls in particular is the covering. Instead of leather Frank has opted for a different casing so that the balls don't cling to the inside of the cup when holding them out of performing moves like the galloping post move etc.
This thoughtful touch makes a huge difference.
Overall:
Recommended! For a working set of classy looking spheres that handle as they should, come with a chopped ball and don't run away on you when dropped you can't go far wrong.
They are also available in 8 colours, chop cup sets and mouse ball core.
Available from: The Ambitious Card
Please remember - This site is a free resource so please pass on your thanks by mentioning us when you place an order for anything.
Thanks!