Cups and Balls Magic
Andre Limantara's workers!

(Place your mouse over the picture for an enlargement)
text Here are Andre's workers, a RNT2 copper Mendoza set with a simply beautifull patina. Andre also makes amazing wands, don't you think?
Owner: Andre Limantara
Profile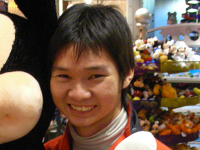 Name: Andre Limantara
Origin: Indonesia
Occupation: Business Owner and part-time magicians
First Set Of Cups: Bazaar De Magia cups
Magic Background:
This is my 4th years in magic. I was learning magic from zero when I was a uni student in Melbourne Australia. I started with card magic as probably all of us were. Then after quite some time, I learn coin magic and also basic of other areas. I decided to go with close up magic since then.
I have passionate in Cards, Coins, and of course Cups and Balls...

Thanks Andre!