Cups and Balls
Cups and Balls Magic Reviews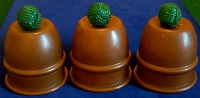 Place your mouse on the above picture for a close up view
(Hold down your middle mouse scroll button to move around picture)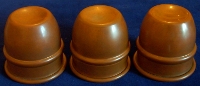 Product: Sisti Professional Copper Cups
Maker: Jim Sisti
Overview:





5/5
Review
Price:
These are the original Sisti Professional's so the price is down to their market value (the cup market seems to be having a bit of a rough time at the moment.) These were bought from a forum for $100. In a good market these should fetch around the price of any decent set of cups.
What's Included?:
I received just the cups, no bag or balls
Delivery Time / Packaging: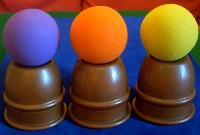 I received these well packaged, each cup wrapped in paper, the set wrapped in bubble wrap and the cups protected in a stout box.
Delivery from the USA took only a couple of weeks (there were postal strikes in London during that time too.)
Construction / Durability:
As I understand it (I don't have any RNT2 Sisti's to verify) the Sisti Professional's have a slightly smaller saddle and thinner guage copper than the RNT2 reworking.
Having said that these cups are excellent. In terms of construction and durability I wouldn't give them anything less than 5 out of 5. They are a very stout feeling cup, perhaps that is because of the overall rounded shape and the single bead?
In terms of construction they have a similar shape to a Paul Fox cup, to me they are a perfect balance between a Moni and a PF.
Suitability:
These are now my favourite set of smaller cups (i.e. non tennis ball load cups) so I love them. What makes them desireable workers for me is the patina contrasts so well with brightly coloured working and load balls against a dark mat.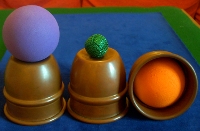 They handle like a good set of PF cups and allow all the usual moves that are made that touch easier by a rounded top cup. They comfortably take 3 1" Ambitious card Monkey Fist balls on the saddle and have the same size final load as my PF cups so I am assuming lacrosse ball size.
Overall:
Overall another 5 out of 5. These are a great little set of cups which perform well and feel great to use. Bruce Smith reviewed his set of RNT2 Sisti cups over at cupscon and mentioned the legal issues between Sisti and Jeff Busby and Bill Palmer has also shed some more light on this situation from his research.
Personally I think they are different cups and there was no issue, others opinions may differ. Legal issues aside these are fantastic cups and I prefer them to my PF cups to work with, I'm not sure what it is about them, they just feel right.
Available from: N/A
Please remember - This site is a free resource so please pass on your thanks by mentioning us when you place an order for anything.
Thanks!