Cups and Balls
Cups and Balls Magic Reviews

Guest Reviewer Andrew Zuber
Click on the picture above for a close up view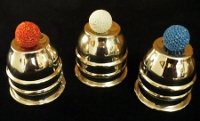 Product: Brett Sherwood Nickel-plated combo cups & Kent Gunn set of balls (3 regular, 2 chopped)
Maker: Brett Sherwood
Price: $505 ($445 for the cups, $60 for the balls)
Overview: 10 / 10
At a Glance
| | | | | | | | | | | |
| --- | --- | --- | --- | --- | --- | --- | --- | --- | --- | --- |
| | 1 | 2 | 3 | 4 | 5 | 6 | 7 | 8 | 9 | 10 |
| Price | | | | | | | | | | |
| Delivery | | | | | | | | | | |
| Construction | | | | | | | | | | |
| Suitability | | | | | | | | | | |
| Overall | | | | | | | | | | |
Review
What's Included?:
Two regular Nickel-plated cups, one Chopped Nickel-plated cup, 3 regular balls and 2 Chopped balls, and a very nice velvet drawstring bag with the Brett Sherwood logo stitched on it.
Delivery Time / Packaging:
I paid for these on December 2nd and they arrived on December 15th. The only reason for the delay was that this was the first set of Nickel-plated combo cups Brett made, so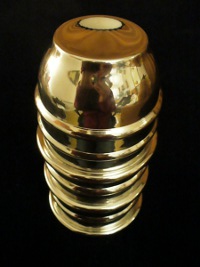 I ordered them before they were finished. These were shipped on a Friday and arrived on Saturday in Newcastle, less than 24 hours after being shipped. Unfortunately, I wasn't home when the postman came, so I rescheduled delivery for the following Wednesday. They were individually wrapped in tissue and plastic, then wrapped in bubble wrap, surrounded with a section of a hard plastic pipe (like you would find under your house,) then packed in foam peanuts. A tank could have run over this box and not damaged the contents. I was extremely impressed with Brett's shipping and packaging.
Construction / Durability:
At 6.5 ounces, these cups are the perfect weight. Despite their weight, they somehow feel lighter than other cups weighing the same amount, yet don't feel delicate or fragile. They have the added advantage of producing a nice ring when tapped together. They handle beautifully, and because of the location of the beads, the fingers fall to the perfect placement every time you pick them up.

The Nickel plating on these is flawless, and doesn't require constant polishing. They won't tarnish or develop a patina over time, so a simple wipe down with a cloth will keep them looking like new. Like all Sherwood cups, the bottom of each one is stamped with Brett's initials, so you know they're genuine and only of the highest quality.
Suitability:
The saddle on these is incredible, and will hold 3 1 1/8" balls. The attic space allows for this without any issues. Although they appear smaller than some cups, they will still hold a regulation tennis ball, and their appearance makes the final load that much more deceptive; when it's placed on top, it seems to be too large to fit into the cup which makes for a great finale to the routine.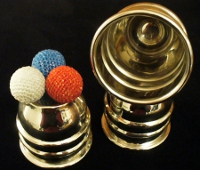 The balls I ordered with these cups are the lightest I have ever handled, and they work beautifully. The work on these is flawless, and the Chopped balls are perfect. The telltale "move" to dislodge the ball is far less necessary with these, yet there is no concern that the ball will make an early appearance. There are moves possible with these cups and balls that no other set will do, making them extra unique.
Overall:
I am thrilled with this purchase. For the price, these cups and balls can't be beat. I'm thrilled to be the first owner of these cups; as of this posting, they aren't even listed on Brett's site yet. I purchased them for a specific routine, and I believe they will become my primary set of cups. Brett was fantastic to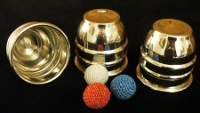 work with and kept me updated every step of the way, from when the cups went to his plater to after they were already in the mail (and he sent them AHEAD of schedule - when does that ever happen, especially with an artist as highly respected as Brett?) I would highly recommend these to anyone, from the amateur who is just starting out to the working pro who will use them every day for decades.
Available from: Brett Sherwood
Thanks Andrew!

Please remember - This site is a free resource so please pass on your thanks by mentioning us when you place an order for anything.
Thanks!