Cups and Balls
Cups and Balls Magic Reviews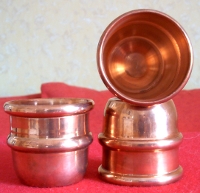 Product: Copper Mini's
Maker: James P Riser
Price: No Longer Available
Overview:





5/5
Review
Price:
As these particular cups are no longer available I guess the price is whatever you are prepared to pay for them. The cups which have replaced these are the Riser Midi Traditionals which can be found half way down here.
The Midi Traditionals are $225 so assuming that they replace these cups then I would say that $225 is a fair price for them.
What's Included?:
As these are no longer in production I bought these second hand and received the cups and a very nicely made bag. Luckily I have sets of balls in all sizes.
Delivery Time / Packaging:
The seller got these to me in 5 days from the United States, very well packaged and they arrived in perfect condition.
Construction / Durability: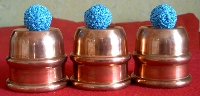 I keep promising not to buy any more cups but I have been looking for some of these for a long time and so I caved in and boy am I glad I did.
With a stacked height of a hair over 4 1/4", individual cups height of a hair over 2" and an inner mouth diameter of around the same, these cups will fit in your jacket pocket easily.
These cups are very well made and no corners have been cut. They are well designed and deceptive too. For instance, they will actually fit 3 3/4" balls on the saddle when stacked and for cups of that size that's quite remarkable. They also take a golf ball with ease so I am going shopping at the pet shop to see what final loads I can get!
These little beauties are easily durable enough to be workers for table hopping etc and will no doubt become a favourite.
Suitability:
They are perfectly suitable in every way. I love the look of tarnished coper so I am letting these turn, they have a great weight for such small cups and they handle perfectly. So far I have not found a move that I do with "regular" size cups that these wont do.
Overall: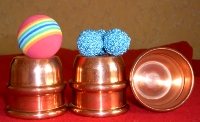 Overall I don't see how anyone couldn't fall in love with these little cups. They are perfectly manufactured (by a true artisan), feel great, handle beautifully and will only get better with age.
Readers of my reviews will know that I create routines all of my favourite cups (and chop cups) and I have discovered something about these cups and different combinations of ball sizes that makes for something very unique indeed.
So, overall 5 out of 5 and my favourite little set of mini cups!
Also, if any of you are members of cupscon, my good friend Bruce Smith has also reviewed a set of these here.
Available from: James P Riser
Please remember - This site is a free resource so please pass on your thanks by mentioning us when you place an order for anything.
Thanks!