Cups and Balls
Cups and Balls Magic Reviews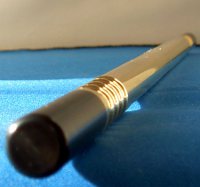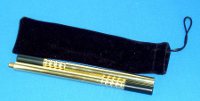 Product: 2 Piece Brass & Plastic Wand
Maker: Johnson Products
Price: $105 Shipped (2nd user) $45? Original Price
Review
Price:
This is no longer made and it seems the going rate for these is anywhere between $90 and $125 at the moment. I didn't buy one when they were first released but I seem to remember they were around the $45 mark. If I'm wrong, perhaps someone could let me know and I will amend this.
What's Included?:
Simply the wand and a black velvet bag.
Delivery Time / Packaging:
Took around 3 weeks from the states, the wand and bag were thrown loosely into a small box with some polystyrene beans.
Construction / Durability:
This would appear to be a very sturdy, solid wand and it certainly has a fair old "heft" to it, however (in my opinion) it does have a design flaw which I will get to in a moment.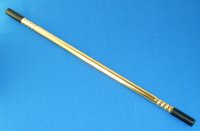 While this wand weighs in at a solid 6oz, I can't be certain if it is made from a thick walled tubing with threaded inserts or a solid bar that has been machined out and threaded inserts added.
It's 15" in length and 1/2" thick with 1 1/2" tips. The decoration preceding the tips looks very nice and balances the look of the wand out nicely.
The downfall (in my humble opinion) of this wand is the joint. While the male half is a good, solid 1/4" threaded bar the female part of the thread is a plastic insert.
I expect this would hold up reasonably well but I wouldn't want to use this as a worker, particularly as my own routine uses a variation of the Williamson striking vanish.
I personally wouldn't feel that the plastic joint would hold up for too long in subjecting it to such stresses.
Suitability:
For use in the drummers wand spin, through the hand vanish and the Mora / Vernon spin it's well balanced and handles okay, though some may find it a little heavy for the latter.
The tips are a hard black plastic so they shouldn't do your cups and harm if you use them to tilt the cups back, for the cup penetration move etc.
If you own the Johnson cups and / or chop cup then this will look great when used with them and it has the advantage of taking up less room when travelling.
It also has a tip which is gimmicked the same as the single cup mentioned above for those who would find that useful, though I feel the same gimmick in the centre would offer more opportunities.
Overall:
Overall this is a very attractive wand which packs small and looks great. I'll use it now and again but it probably wont become my "go to" wand for the reason mentioned above but I certainly will break it out on special occasions.
I do love the fact that it breaks down for packing and I have a set of Johnson cups on the way which I would like to use it with, maybe I'll work out a routine just for those cups and this wand...
For collectors I would say that this is a great piece to own and complete the Johnson set and for performers it's a nice wand that should hold up with a little care.
Available from: N/A
Please remember - This site is a free resource so please pass on your thanks by mentioning us when you place an order for anything.