Cups and Balls
Cups and Balls Magic Reviews

Guest Reviewer Jeremy Bessette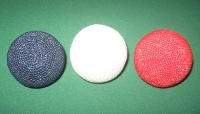 Product: Danis Load Balls 64mm
Supplier: Danis Magic Workshop (Pascaline Danis) out of France
Price: €11.50 each, shipping was €7.00
Overview:





5/5
Review
These balls are the best that I have seen. She definitely takes her time making them. The communication was excellent, she reads and writes English very well. The whole experience dealing with Danis Magic was excellent.
What's Included?:
Just the Balls
Delivery Time / Packaging:
It took about 3 weeks from the date that I order. Only because they were busy, only one person make them. It takes her about 7 hours to complete one ball. It only took 1 week to get to Florida from France
Construction / Durability: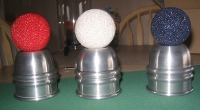 The core of the ball is rubber, like a racquet ball. She paints the ball the color of the thread so you don't see the ball through the thread. The crochet is perfectly fitted around the ball. They seem to be very durable, I only had them for 4 months and are holding up just great.
Suitability:
They are really great for Mendoza cups, or similar cups. They are about the same size and weight as a tennis ball.
Overall:
These are the best value for your money. Very high quality, communication was excellent.
Available from: Danis Magic
Thanks Jeremy!
Please remember - This site is a free resource so please pass on your thanks by mentioning us when you place an order for anything.